What does Hostal La Torre taste of the summer?
The seasons don't only change the landscapes in Ibiza, they also change the restaurant menu at Hostal La Torre. And the summer brings fresh and fun flavours to our kitchens to enjoy with your friends, partner or family. Read on to find out the delicious proposals brought by our new summer menu and book a table with a sea view. We're looking forward to seeing you!
summer flavours

The hot weather this season calls for vegetables and fruit with lots of water and vitamins, and also fish and shellfish, with a generous amount of proteins and minerals and far less calories than meat –which you shouldn't overdo in the summer. During the summer months, it's essential to make sure that you keep hydrated by drinking water, iced tea and juices and by eating certain dishes like the traditional gazpacho or other cold soups.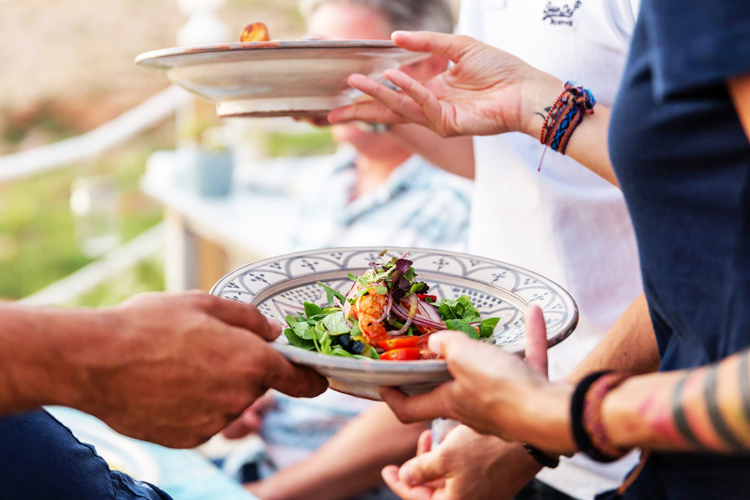 Try our delicious fresh salads and get vitamins and extra hydratation. © Alba Haut / Hostal La Torre
summer breakfast at Hostal La Torre
A good way to start a summer morning at Hostal La Torre is by having some of the healthy proposals on our breakfast menu, including toast of artisan bread with avocado, paprika and olive oil or the Omelette with mature Mahon cheese, basil and semi-dried tomatoes... Yummy... And to round off a wonderful breakfast, there's nothing better than a plate of seasonal fruit that has been freshly prepared.
eating with a sea view at Hostal La Torre
One of the nutritionists' top recommendations for summer meals is to moderate the amount of food you eat, in other words, don't overeat, try to eat less food that is high on calories and fat, as the body needs less energy during these months.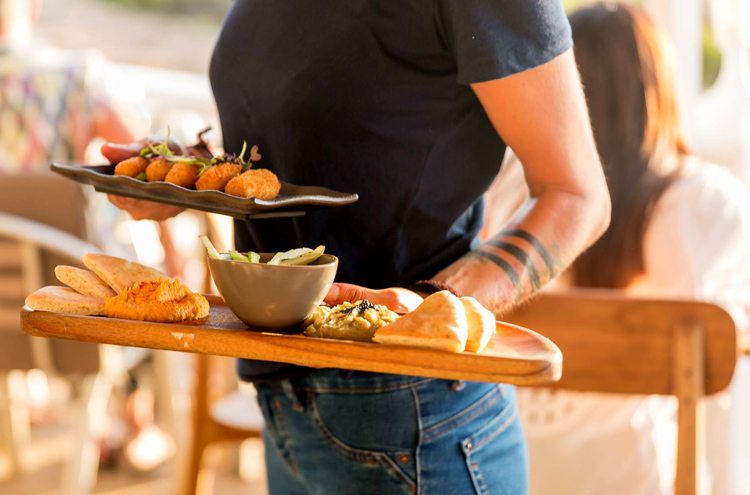 Croquetas, hummus and bab ganoush are always a good way to start a lunch or dinner. © Alba Haut / Hostal La Torre
For this reason, our lunch proposals stand out because they are fresh and light options, like the Bowl of steamed mussels in cava, coconut milk and lime, our Hummus and baba ganoush with grilled vegetables and pita bread, Crispy baby squid with pistachio aioli or the Smoked salmon sandwich with avocado, tomato, pickled gherkins and a herb and citric mayonnaise.
dinner at Hostal La Torre admiring the sunset

There's no better dinner than a summer dinner by the sea. And at Hostal La Torre, it's accompanied by a stunning sunset every day. This summer, our menu proposes a tempting assortment of dishes, both appealing and summery, like the Salmon tartare with sriracha mayonnaise, mango and yuzu spheres; Marinated sardines with avocado puree and balsamic spheres; or the Grilled octopus legs with smoked potato mash and pepper chutney.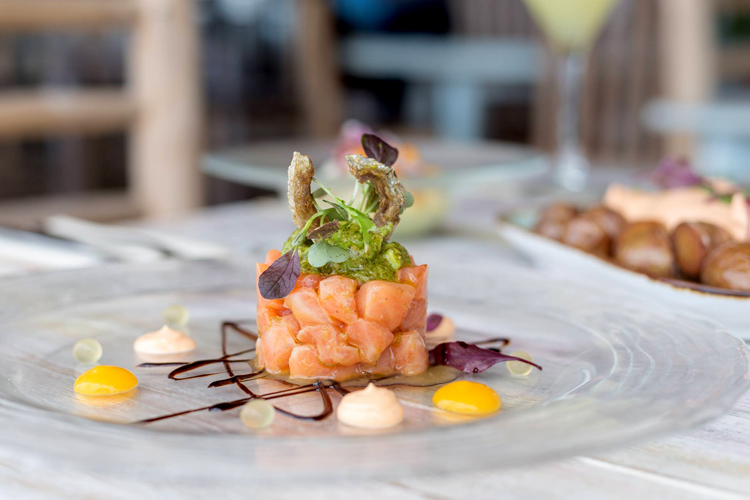 It's hard to resist our salmon tartare, right? © Alba Haut / Hostal La Torre
Alternatively, among other meaty proposals, the Black Angus hamburger with fondant egg, Cheddar cheese and crispy onion. If you'd like to know about other dishes on our new seasonal menu, check the menu on Hostal La Torre's website.
And the icing on the cake…
When you're on holiday, you want an extra bit of pampering. That is why we advise you to leave some space for the irresistible temptations, such as the delicious Brownie with mascarpone ice-cream or the Volcano of dulce de leche with vanilla ice-cream. Or order a cocktail to finish off a perfect lunch or dinner. Because every special moment deserves a toast and summers at Hostal La Torre are very special.
Do you fancy a cocktail?. © Alba Haut / Hostal La Torre
Cover's picture: © Alba Haut / Hostal La Torre Ibiza
Looking for an idea for a romantic dinner?
Book a table at Hostal La Torre and choose from our list of dishes to share. The rest is up to you...