The Perseids: hundreds of wishes are waiting for you in the sky
Same as every year, the Perseids or the Tears of Saint Lawrence are coming back to mark the nights of meteor showers and wish making, a classic date of the summer that in 2018 will have its peak on 12th and 13th of August. Here at La Torre we love the unique and special moments; that´s why in this article we´re trying to suggest the best spots in Ibiza where you can watch the falling stars. The company and the amount of wishes you make is up to you…
where to see the falling stars in 2018
On the island you will find many romantic and quiet spots where you can watch the ephemeral stars. The key to a good observation is getting as far away as possible from the urban centres and look for a big horizon. That being said, we present you with a selection of our favourite spots to watch the Tears of Saint Lawrence in Ibiza:
- Playa de Aigües Blanques: Being one of the most remote spots of the island has its advantages. In this case the lack of light contamination is one of them. Also, you can look for stars while you´re bathing in the sea and enjoying the views of the Tagomago island. Fantastic, right?.

- Sa Talaia: This option is highly recommended for the ones who have already driven to the tallest peak of Ibiza, given that the road to get there is not that easy to follow if it´s your first time. The top of the island will give you unforgettable views for sure. Don´t you think?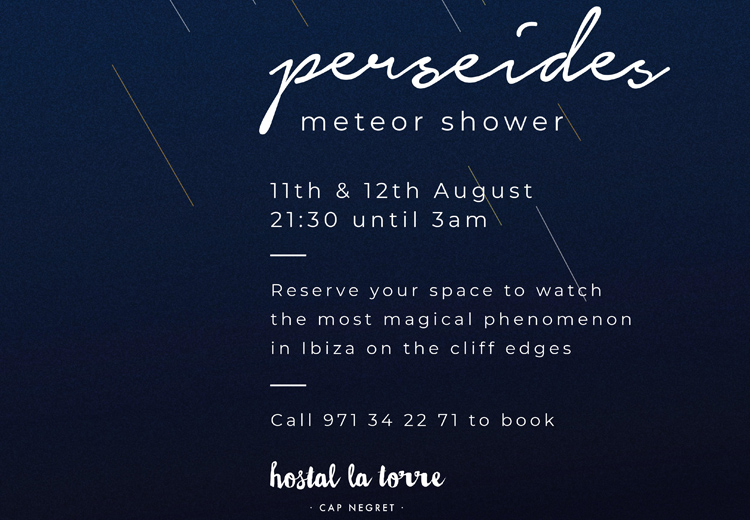 - Hostal La Torre: from our terrace you can see the sky, the sea and an open horizon that leads to Conillera island. Furthermore, while you´re gazing at the stars, you can enjoy a delicious and romantic dinner. Doesn´t that sound like a perfect plan for an August night?
- Cala d´Hort: Is there any better place in Ibiza to follow the stars than the shore of Cala d´Hort while looking at Es Vedrà islet?
- Sa Penya Esbarrada: This cliff situated next to Pla de Corona, in Saint Agnes, is also known as Las Puertas del Cielo (The gates to the sky). Having this name, isn´t this the perfect place to see the meteor shower? You will have a view of the sea and a part of the Western coast of Ibiza.
the moon and the Perseids in 2018
This year, the meteor shower will be visible, as the moon will not have commenced its crescent phase and will have a less than 2% illumination. During this night, the Swift-Tuttle comet will leave its mark in the sky with a shower of around 100 meteors/hour.
**
Discover what does Hostal La Torre taste of the summer with the dishes on our seasonal menu.
Book a table for today!