Christmas in Ibiza: Festival Holidays at Hostal La Torre
This 2018, Hostal La Torre will be celebrating Christmas once again with delicious menus and special offers. Tempting proposals to see out the year in Ibiza, whether you live on the island or you've chosen to hop over for the Christmas holidays. We look forward to seeing you! Come and raise a glass to the joys experienced this year and the ones to come in 2019!
christmas Menus in Ibiza: forget about the apron!
If you don't like cooking or you can't be bothered with the hassle of festive menus, join the increasingly popular trend and have lunch or dinner out on Christmas Day and New Year's Eve. We make it really easy for you at Hostal La Torre with our exquisite festive menus for Christmas, San Esteban (Boxing Day) and New Year's Eve. Learn all about our special menus for this Christmas and book your table now. This Christmas, let us wear the apron…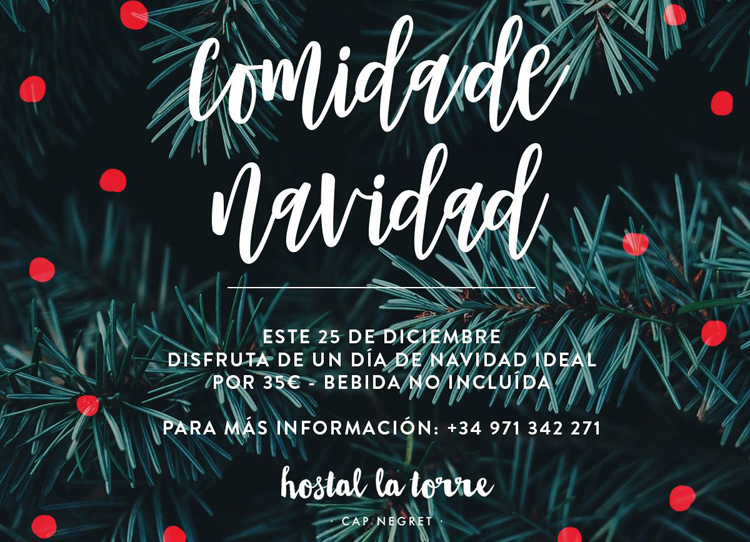 LUNCH ON CHRISTMAS DAY 2018
The terrace with a sea view at Hostal La Torre will be brimming with the Christmas spirit next 25th December thanks to our delicious Christmas menu that will consist of two starters to share, a main course (out of three choices) and a dessert (out of two choices). The price of the menu is €35 per person (drinks not included) and includes the following:
Pastry toast with mushrooms cream and smoked salmon
"Galets" soup
Sirloin steak, potato mille-feuille and cherry tomato confit
Sea bass fillet on fennel butter, with confit baby potato and Kalamata olives
Tagliatelle with parmesan cream and chive
Mascarpone foam with red fruits
Macadamia nut ice-cream
LUNCH ON BOXING DAY
After two days of family celebrations at home, it's not surprising that you've no energy left to start cooking again on San Esteban or Boxing day. That is why Hostal La Torre proposes this special menu for €25 per person (drinks not included): for you to forget about everything and simply relax, enjoy the company of your friends or family and let your eyes rest on the sea view. Doesn't it sound like a fantastic idea?
Spinach, courgette and ginger soup
Poached egg on a bed of fried Ibizan potatoes
Main course (choose one):
Our San Esteban beef and chicken cannelloni au gratin
Bowl of stewed fish and clams
Aubergine lasagne with mozzarella, scamorza and parmesan
Toffee semifreddo
Chocolate and dulce de leche ice-cream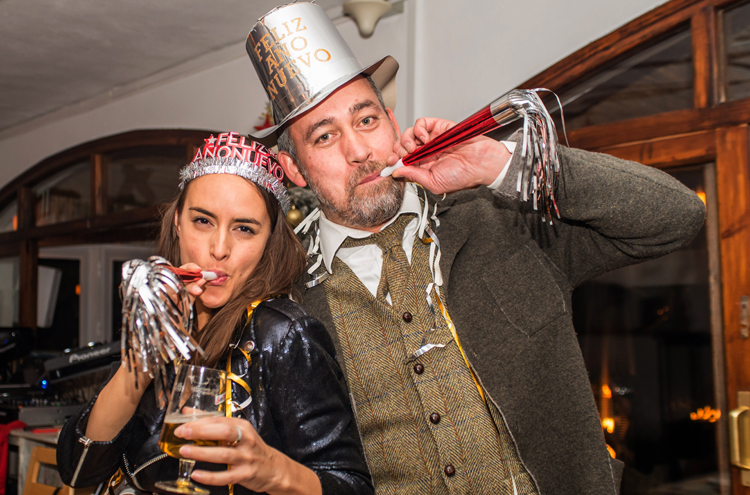 dinner on new year's eve 2018
See in 2019 from Hostal La Torre's restaurant with our special New Year's Eve dinner that includes DJ session, party, lucky grapes, a table with sweet treats and a festive menu for €110 per person, drinks included until midnight (red wine, D.O. Rioja Ramón Bilbao, white and rosé wines Vol d'Anima de Raimat, beer, soft drinks and water).
Seafood bisque with small crispy red Ibizan prawns
Duo of au gratin scallop and poached stuffed squid
Sea bass fillet with wakame seaweed and Kalamata olives in different textures
Iberian pork cheeks on a bed of smoked red potato puree
Our chocolate truffles
why not celebrate christmas in ibiza this year?
If you'd like to see in the New Year wrapped in Ibiza's magic, buy your flights now and escape to the white island for the Christmas holidays. At Hostal La Torre we have prepared two special offers for you to enjoy the holidays in pure Mediterranean style.
Christmas package in Ibiza: This offer includes a night in a double room, continental breakfast and a special Christmas menu.
New Year's Package in Ibiza: This proposal includes a night in a double room, continental breakfast and a special New Year's Eve menu.
Enquire about our packages by email or by phone.
Happy Christmas!