How about spending a day in Formentera?
Only twelve miles of sailing separate the harbours of Ibiza and Formentera, the smallest Balearic Island and one of the most unspoilt islands in the Mediterranean Sea. Its long beaches of fine white sand and turquoise waters were practically a secret a few years ago, when the now famous Illetes started to appear on the lists of the most spectacular beaches in the world. If you'd also like to visit this stunning spot in the Mediterranean, read on to find out how to get there and what to see in Formentera in a day.
WHAT TO SEE ON A DAY-TRIP TO Formentera?
–Ses Illetes: you probably decided to go to Formentera after seeing a photo of this beach with its amazing turquoise waters. It looks like something out of the Caribbean, not the Mediterranean Sea. We recommend you leave it till the second half of the day, because if you do go the moment you get there, you won't want to leave…
- Cala Saona and Es Caló de Sant Agustí: if you rent a motorbike, don't forget to include these two coves in your route on the northeast and the south-east, respectively.
– Cap Barbaria Lighthouse: its profile stands at the end of a road that faces the sea and is one of the most photographed images in Formentera. If you drive there, you'll have to park at the checkpoint and then walk or ride one of the bikes that are for rent there.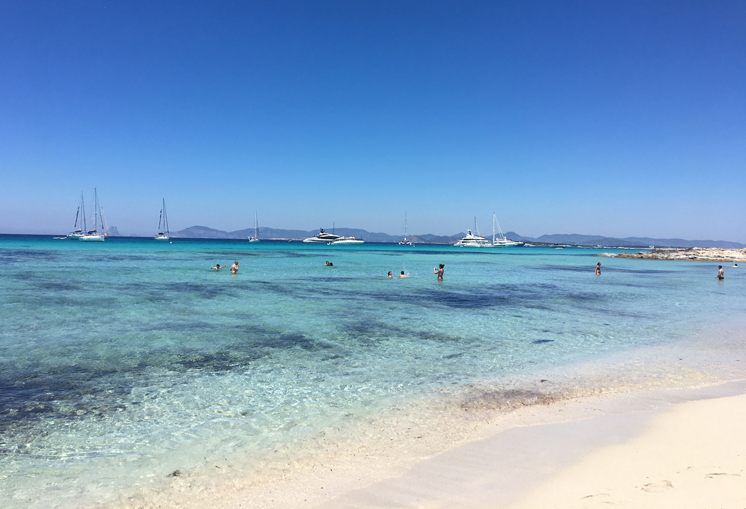 You will fall in love with Illetes beach! © NC/Hostal La Torre
–Sant Francesc Xavier: the island's capital is a small charming village that hosts boutiques, pleasant cafés and one of the best samples of a fortified church in Ibiza and Formentera.
–La Mola viewpoint: on the road to the village of Pilar de la Mola and La Mola lighthouse you will find El Mirador restaurant whose terrace offers an excellent view of the island and the southern coast of Ibiza.
where to eat in Formentera?
There are fantastic places in Formentera to relish paella, rice with lobster or grilled fish on the seafront. If you fancy a traditional restaurant, go to Es Codol Foradat and Vogamarí, they're both on Es Migjorn beach; to Tanga, on the Llevant beach, or to Es Caló or Can Rafalet in Es Caló de Sant Agustí. You won't be disappointed by any of these! But if you'd rather stay on the Illetes beach, you'll find Es Molí de Sal at the entrance to it, another classical eatery in Formentera.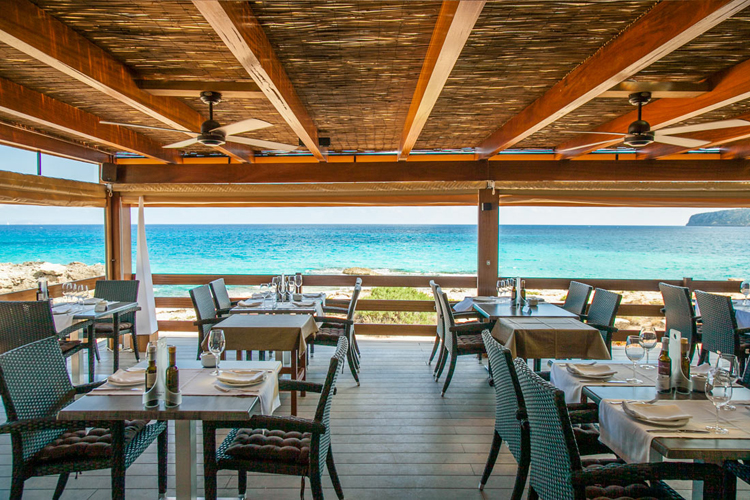 Es Caló restaurant, located in the east coast of Formentera.
how to get to Formentera?
Hopping over to the neighbour island from Ibiza or San Antonio is really easy as sightseeing boats leave from both harbours to Formentera. If you'd rather go by ferry, there's regular trips leaving from Ibiza harbour and run by Baleària and Transmapi.
private boat trip to Formentera
Another option that will bring you closer to Formentera's waters is the private 6-hour boat trip that you can hire through us and will also help you discover other beautiful spots along the Ibizan coast. Private cruises organized by Sunset Boats leave from San Antonio harbour and you can book them at our front desk. Don't you think it's the best way to reach the last heaven in the Mediterranean Sea?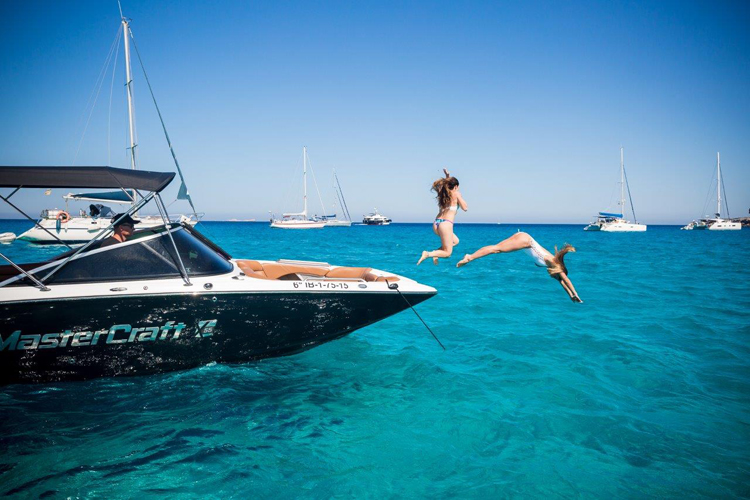 Book your private boat trip to Formentera with Sunset Boats. © Sunset Boats
Main picture: Playa des Migjorn, Formentera. © Turismo de Formentera
Looking for a special place to spend your holidays in Ibiza?
Visit our website and book a room right now.