Beautiful spots in Ibiza: The Moscarter lighthouse
Winter and spring are the ideal seasons to explore beautiful spots in Ibiza that are usually forgotten once the summer months have arrived. A good example is the Moscarter lighthouse, that is on the northern coast of Ibiza, 36 kilometres away from Hostal La Torre. In this post we explain how to get there and what to do when you're visiting the area.
what makes the moscarter lighthouse a beautiful spot in ibiza?
This graceful lighthouse is in the vicinity of Portinatx and is decorated with a black spiral. Its 52 metre tower makes it the tallest lighthouse in the Balearic Islands. You can often spot its silhouette as you reach Ibiza by plane but not many travellers know that there's a pleasant walk leading up to it. The Moscarter lighthouse was built in 1978 when there was no longer any need for a lighthouse-keeper, so the building doesn't have the usual outbuilding used as the keeper's living quarters that older lighthouses have.
how to reach the moscarter lighthouse?
The path leading to the lighthouse starts at the car park in the small cove of Es Portitxol in Portinatx. From there, there's a path to the right that goes up to the lighthouse all along the edge of the cliff. You need to keep on this increasingly rocky path and not take any of the other paths that head inland. After a pleasant walk, you'll reach the lighthouse. There you can either continue walking if you take the hiking track number 3, which is an easy circular walk that is 12 kilometres long and takes about 2 hours from the lighthouse. You can check the walk on the hiking PDF guide available on Ibiza.travel and enjoy a pleasant walk along the northern coast of Ibiza with views of the islets of Ses Formigues, the fishing nook of Es Port de Ses Caletes and Cala d'en Sera, among other spots.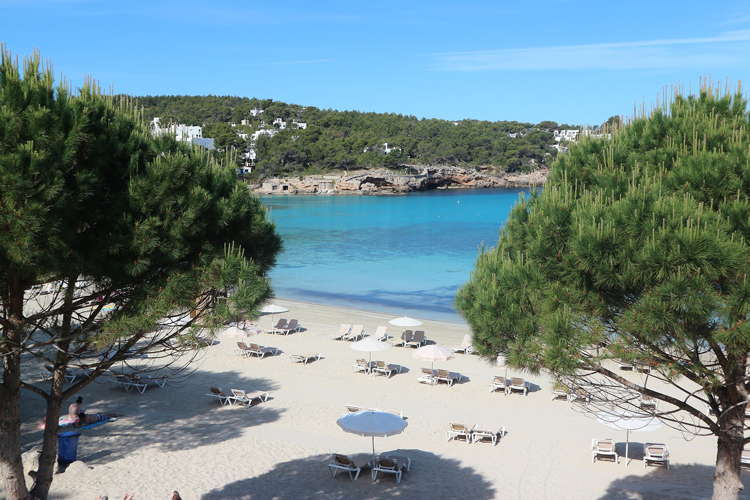 Portinatx. © Pixabay
what else is there to do on your day out to portinatx?
On your walk to the north of the island, take a coffee break in Sant Joan de Labritja and visit its church go to Cala Benirrás to listen to the sea and stop at Cala Sant Vicent to eat paella or fish at Can Gat, also open in the winter.
stay at Hostal La Torre Cap Negret
For us and our regular guests, Hostal La Torre is undoubtedly another of the beautiful spots in Ibiza. Whether it's winter or summer, our beautiful rooms and suites offer a secluded stay with a fabulous view of the sea and Conillera island that you can admire from our terrace. It's impossible not to fall in love with a place like Cap Negret! Why not book your next getaway to Ibiza today?
**