10 Picturesque villages in Spain (and Ibiza)
Some places you fall in love with at first glance and are the perfect place for a weekend getaway or even an entire week. We've asked our staff for their favourite villages and we used their answers to make a list of our top 10 picturesque villages in Spain. Would you like to know what they are? Read on and if yours isn't on the list, tell us. We'll add it to our next top ten!
5 picturesque seaside villages in Spain

Pretty, with plenty of special backgrounds to do your very own photo session for Instagram and with the wonderfully relaxed atmosphere of seaside villages.
Cudillero, Asturias
This is undoubtedly one of the most famously beautiful villages in Spain thanks to its colourful seafront with houses climbing up the mountain as if forming an amphitheatre. Visit this village in spring or autumn and remember that it's worth climbing up the small streets to the top of the village.
Cadaqués, Gerona
Any time of the year is good to visit the furthest point on the eastern side of the Iberian Peninsula, but the summer is when this village is buzzing with life. Cadaqués invites people to take their watch and mobile off, pick up a good book and let the magic of the Mediterranean sea take care of the rest. Don't forget to also visit the nearby village of Portillgat and the Salvador Dalí museum. You will recognise the landscapes of his oneiric paintings...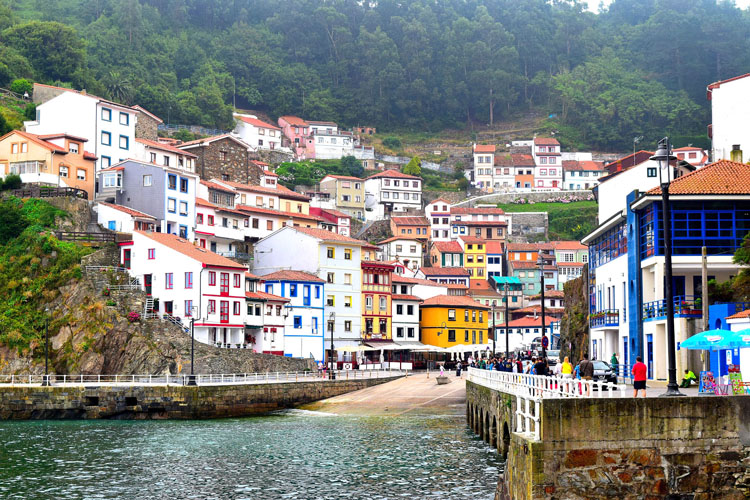 Cudillero. Foto: Javier Álamo / Pixabay
Vejer de la Frontera, Cádiz
Although this village in Cádiz stands on the top of a hill 13 kilometres from the seaside, we've wanted to include it in this list given its unquestionable beauty. In Vejer de la Frontera you will find all the elements of traditional Andalusian architecture: white façades, Arab heritage, flowery patios, narrow streets... It's enchanting! And it's only a 15 minute drive to El Palmar beach, an extremely long unspoilt beach that opens onto the Atlantic Ocean.
Hondarribia, Guipúzcoa
You'll be snapping selfies like crazy when you get to this quaint Basque village on the western shore of the Chingudi bay at mouth of the Bidasoa River. What will you find in Hondarribia? Traditional architecture in the old part of the town (Alde Zaharra) and the quarter of La Marina, and the typical Basque pintxos with a glass of txacolí wine.
Peñíscola, Castellón
If you've watched the 6th season of Game of Thrones, you will recognise some of its settings. This town boasts spectacular views of the sea, romantic restaurants, narrow streets, whitewashed houses and the imposing presence of its castle. In the summer, it's best to visit Peñíscola in June or September, when it's less crowded.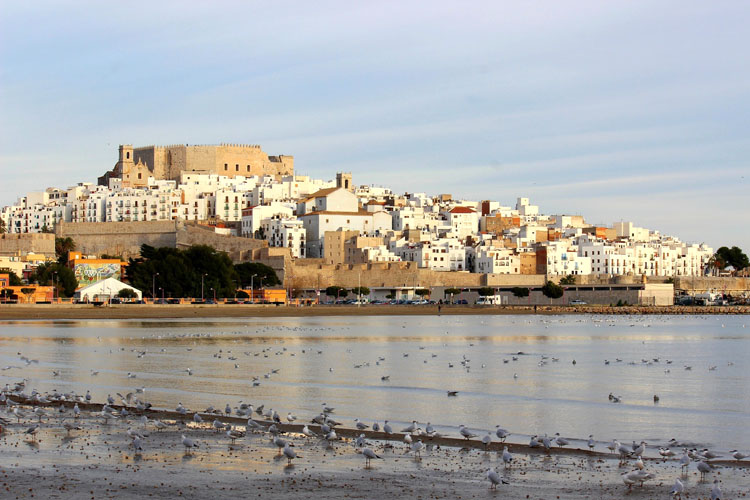 Peñíscola. Foto: Pixabay
5 picturesque countryside villages

As they're not on the seaside, they keep the "Open" sign on all year round (or at least at the weekends). Each of these villages is the perfect excuse to get into a car and enjoy the pleasure of driving off the main road towards a special destination.
La Alberca, Salamanca
In the Sierra de Francia mountain range, this village in Castilla y León became the first village to be declared a Historic Site in Spain back in 1940. You'll love it if you like the smell of burning logs, large stone houses, balconies bursting with geraniums and good food. And all this right next to the nature reserve of Las Batuecas-Sierra de Francia.
Albarracín, Teruel
For centuries, the Guadalaviar River has shaped the promontory that sits under the historic site of Albarracín, one of the must-sees that makes all the top ten lists of most beautiful villages in Spain. Its walls, its houses looking out over the cliff, its traditional architecture, the cathedral and its quiet streets are some of the appeals of this village at any time of the year.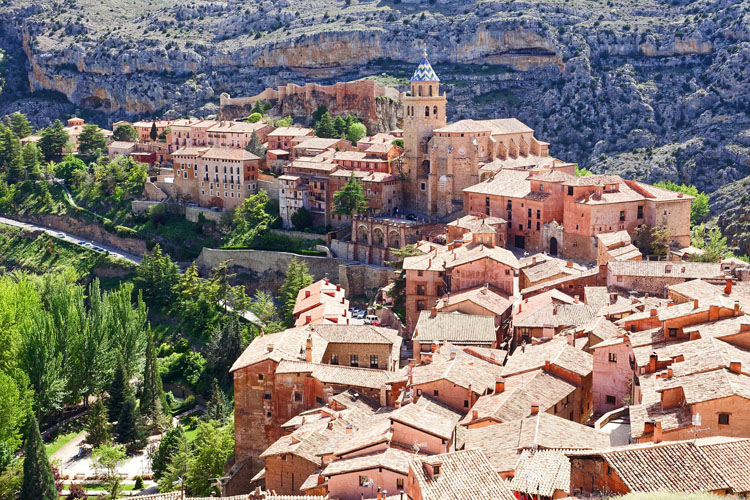 Albarracín. Foto: Siggy Nowak / Pixabay
Capileira, Granada
The Poqueira Gorge, in the Alpujarras mountains in Granada, is the perfect destination to get away from the stress and fully immerse in a setting that feels like you've jumped back in time. This area is home to three truly beautiful villages: Pampaneira, Bubión and Capileira. We chose this last one because it has the same traditional architecture as the other two, but also boasts fabulous views of its neighbouring villages and the Veleta peak.
Pedraza, Segovia
This Medieval village smells of firewood, tastes of roast lamb and good wine and dons a restrained noble charm with its old stone houses. As it's only 130 kilometres from Madrid, it's usually quite crowded at the weekends. This is a good destination all year round but we prefer it in the winter and early July when they hold their famous concerts lit by candles (Conciertos de las Velas).
Trujillo, Cáceres
Its main square is one of the prettiest in the country but that's not all it has to offer. Trujillo also has a remarkable historic and artistic heritage in the form of palaces, towers and churches. And all this accompanied by the aromas of local recipes, especially its game, Retinto beef meat and Iberian hams and sausages made with acorn-fed pigs.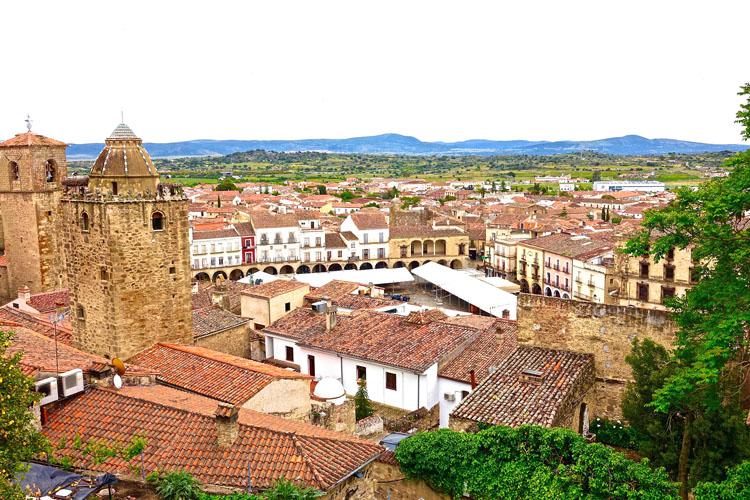 Trujillo. Foto de Siggy Nowak / Pixabay

picturesque villages in Ibiza
Ibiza also has plenty of pretty villages and parishes where you can have a coffee, have dinner outside on a summer evening or take the
most stunning photo of the summer
. Would you like a few suggestions? Here are a few:
Take a pic of the quaintest window in Santa Gertrudis and then eat one of the famous sandwiches from Bar Coast, just opposite.
Take a stroll through the quiet streets that wind up towards the church in Santa Eulària des Riu.
Explore one of the most peaceful villages in Ibiza: Sant Agustí.
Visit one of the emblematic places in the hippy Ibiza: Sant Carles.
Walk through almond trees in Santa Agnès and eat the famous Spanish omelette made at Can Cosmi.
Visit the Sunday market at Sant Joan and drink in its great atmosphere.
Visit the church of Sant Antoni, an excellent example of a fortified temple and follow the coastal walk that leads to Hostal La Torre, where you can enjoy a deliciously healthy breakfast.
Main picture: Cadaqués. Picture: djedj / Pixabay
**