10 Trendy places in Ibiza this summer
If you're reading this article, it's because you've made the best decision for this summer: You're coming to the White Island! Or maybe you're already on one of its fantastic beaches and wondering about the most popular places in Ibiza 2020 that you mustn't miss. If that's the case, you've landed on the right post: take note of where to go during your summer holiday in Ibiza.
the trendiest places in Ibiza 2020

Ibiza always has new places to discover and unforgettable spots to go back to over and over again. Every year, new proposals emerge to add to the usual choice of popular places, so no two summers will ever be the same. Here's our own selection of plans and trendy places in Ibiza where you can recharge with the special energy that comes from the most dynamic island in the Mediterranean Sea.
on your tour of the island

Restaurante Pecador: temptation on the eastern coast

No summer comes without surprises in Ibiza and this summer 2020 won't be an exception. This restaurant on Santa Eulalia beach is proof of this and is led by chef Nandu Jubany, known for his restaurant Can Carlitos (Formentera). If you're visiting the eastern coast in Ibiza, come and taste its mouth-watering proposals of Mediterranean food first-hand.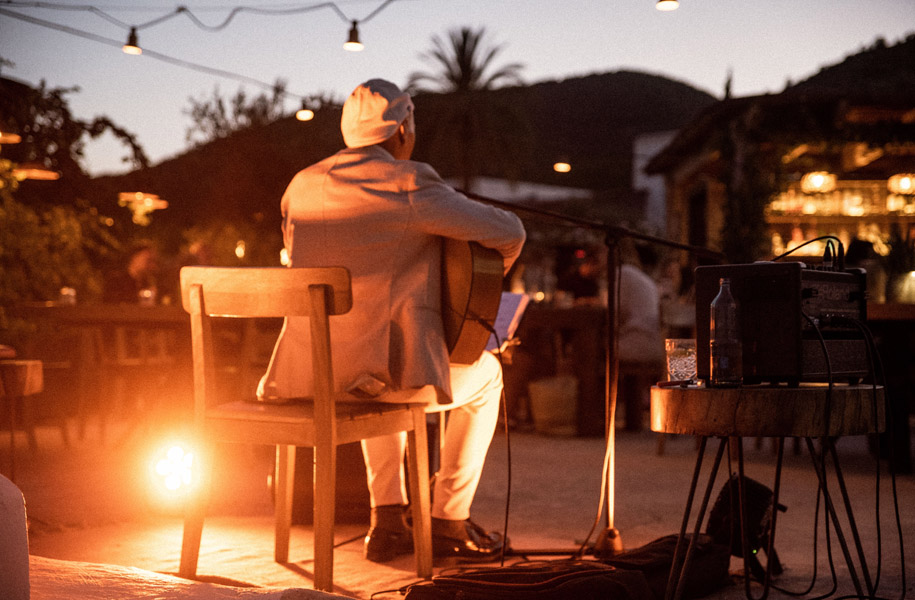 The barbecues with live music at Casa Maca are unforgettable. © Angel Camarena / Casa Maca
Casa Maca: popular grill nights
Since it opened its doors three years ago, the Casa Maca country boutique hotel has become one of the most popular restaurants in Ibiza and is recommended in travel and lifestyle magazines in Spain and abroad. What makes it such a special place? Its location in the countryside with a view of the city of Ibiza, the carefully tended organic kitchen garden that feeds its pantry, the summer peace during the afternoons by the pool, or its traditional architecture... And of course, it's fabulous evening barbecues in the garden with live music by François Caballero or DJ sessions played by Pippi, DJ Buda, Andy Baxter and The Brothers Grimm! In short, an oasis to enjoy the authentic Ibiza of yesteryear and today.
Casa Jondal: news to the south of Ibiza
If you've always liked El Sabinar beach bar in Cala Jondal, this summer you will find it is now home to Casa Jondal, the new beach bar that specialises in sea produce, where you get to eat with your feet in the sand and with no background music. There's no doubt that this is one of the trendy places in Ibiza this summer 2020 and you should include it on your visits to the southern part of the island.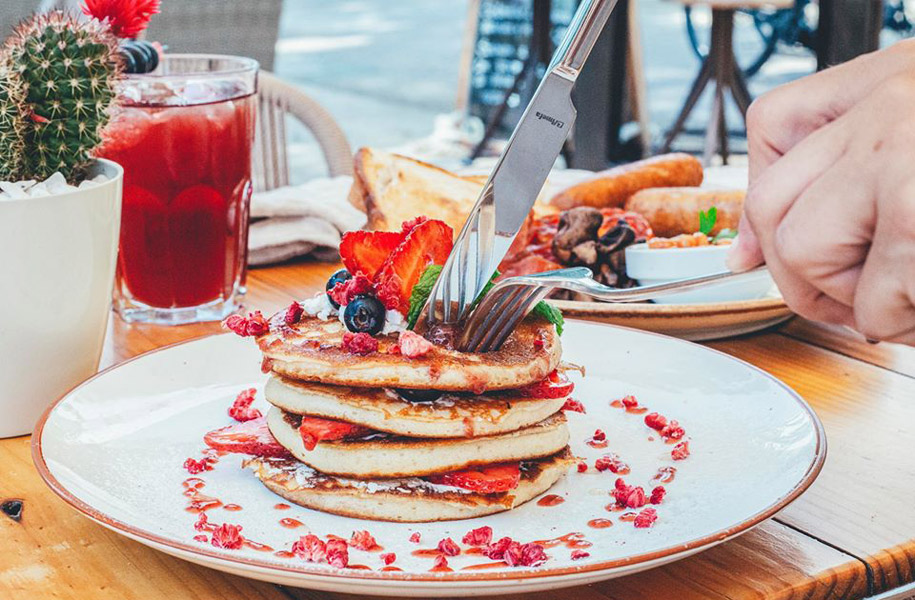 Would you like some pancakes? © Luanda Lopes / La Cava Ibiza
La Cava Ibiza: the place to meet up at any time
Any time of the day is good to sit on the terrace of La Cava Ibiza right in the heart of the city, in the iconic square of Vara de Rey. From breakfast till very late at night, its kitchen is open all day long serving delicious filled bagels, Mediterranean tapas with world touches, aromatic coffees and teas, desserts and snacks, vermouths with homemade pickles, refreshing cocktails made by expert hands... This is why it's become one of the trendy restaurants in the city of Ibiza for those who seek local produce, slow-cooked food and a good atmosphere.
Las Dalias street market: shopping and good vibes outdoors
Those who knew Ibiza in the 70s and 80s say that this summer feels like it's travelled back in time, when most of its beaches and coves were far less crowded. Las Dalias street market has always represented the Ibiza for hippies and alternative travellers who chose a destination with character, like Ibiza. This summer 2020, with its outdoor events and less crowded street markets, Las Dalias will be one of the trendy places to enjoy the Ibiza from the good old days.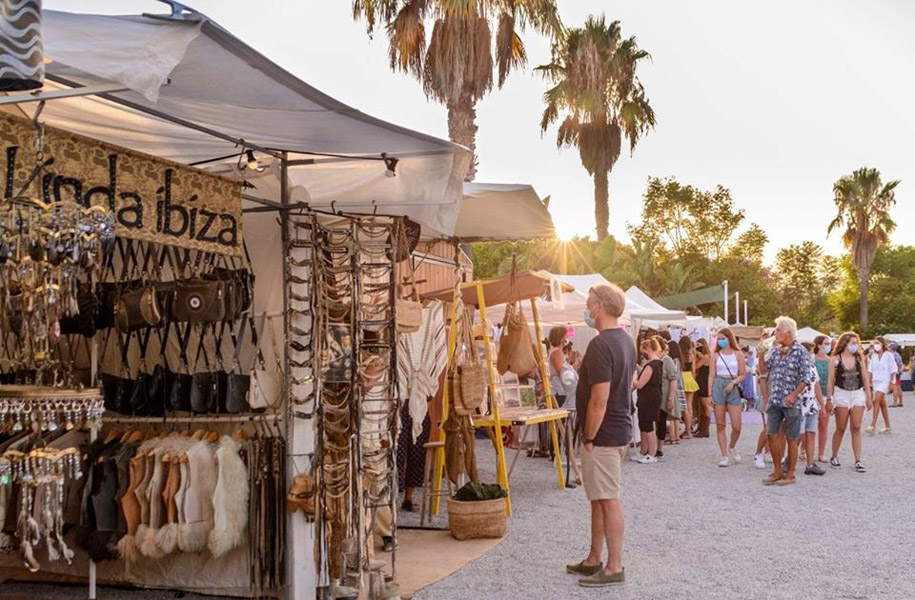 Go to Las Dalias, It's a must! © Las Dalias/Facebook
best places in san antonio and nearby in 2020

Boutique Hotel Las Mimosas: Yoga, barbecue and brunch
This summer 2020, you'll want to stop at the boutique hotel Las Mimosas (San Antonio bay). Especially if yoga and good food are your thing. For example, on Tuesdays and Wednesdays, you can enjoy delicious pizza with a cocktail for only €15 all day long. On Saturdays, fabulous barbecues by the pool and on Sundays, a relaxing morning Yoga session with brunch (€25). Or if you're an evening person, you can join their Sunset Rooftop Yoga event with dinner (€30). All the plans cooked up by Las Mimosas are open to the public, but it will be even more convenient if you decide to stay at this charming boutique hotel with its Mediterranean style on a quiet spot in San Antonio bay.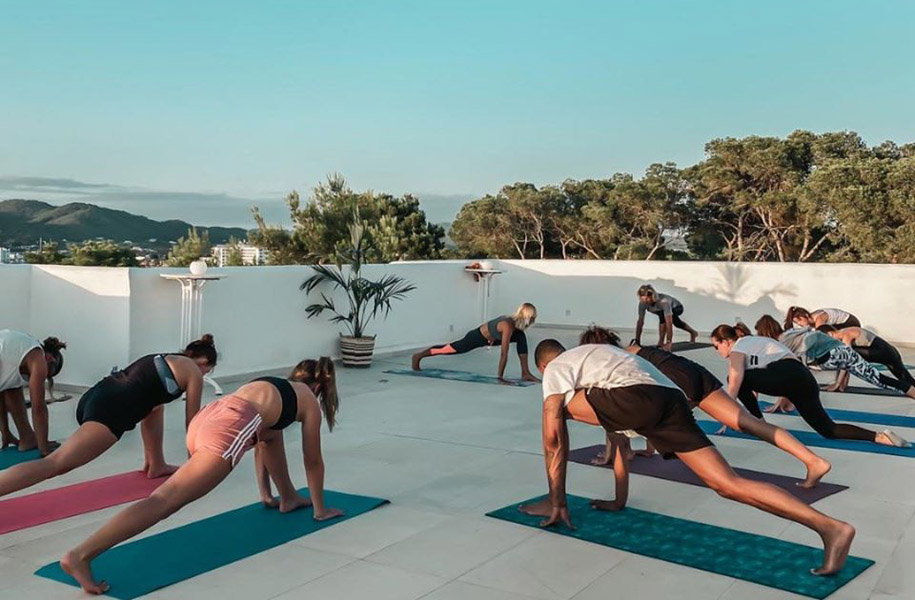 Do you join Las Mimosas sunset yoga sessions?. © GM
Café Mambo: going back to its origins this summer
If you thought that Café Mambo wouldn't open this summer, you got it wrong. This summer, our terrace with a sea view has once again set up its tables to enjoy the most famous sunset in the world at the rhythm of resident DJs: Manuel Grandi, Doctor Feelgood, Fabiano Pax, Jason Bye, Buda, Ryan Mcdermott, Andy Baxter and Andy Warburton, among others. A summer without mass pre-parties that will take you back to Café Mambo's origins and essence.
Cala Gracioneta: the perfect experience from morning to night
Some beach bars are love at first sight and they're hard to leave. Cala Gracioneta is one of them. On the small, beautiful cove that bears its same name, only a few minutes' drive from San Antonio, its terrace with a sea view will bring you the best flavours and aromas of a perfect summer day by the Med. And if you're thinking it would be a good place for lunch and a siesta on the shore, you may change your mind when you learn that from Wednesday to Sunday, dinner comes with sunset and live music from 9 p.m. Or you might not change your mind, and simply choose to enjoy Cala Gracioneta day and night.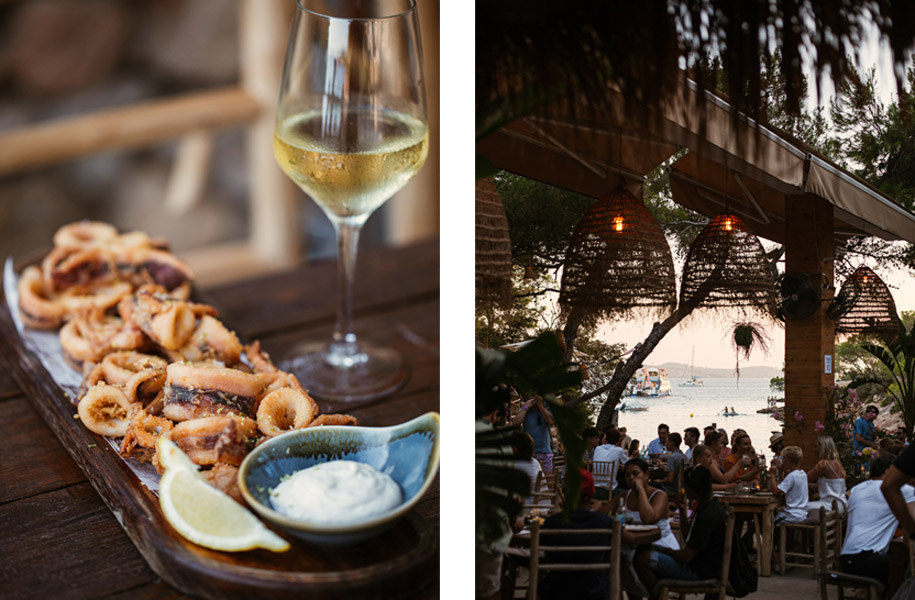 Cala Gracioneta: a perfect venue for anytime. © Luana Failla / GM
Favourite hotels for summer 2020
We've already talked about Las Mimosas and Boutique Hotel Casa Maca, a favourite among favourites, but if you'd like to stay in San Antonio to be close to the best sunsets in Ibiza and some of the most famous coves on the island, we suggest you stay at Sa Clau by Mambo or at Hostal La Torre. You'll love the first option if you prefer a quaint urban hotel opposite San Antonio harbour surrounded by shops and restaurants. But if you'd rather stay at a small special hotel in Ibiza with a view of the sea and the starry sky, Hostal La Torre is the ideal choice for you. You'll want to come again and again and again...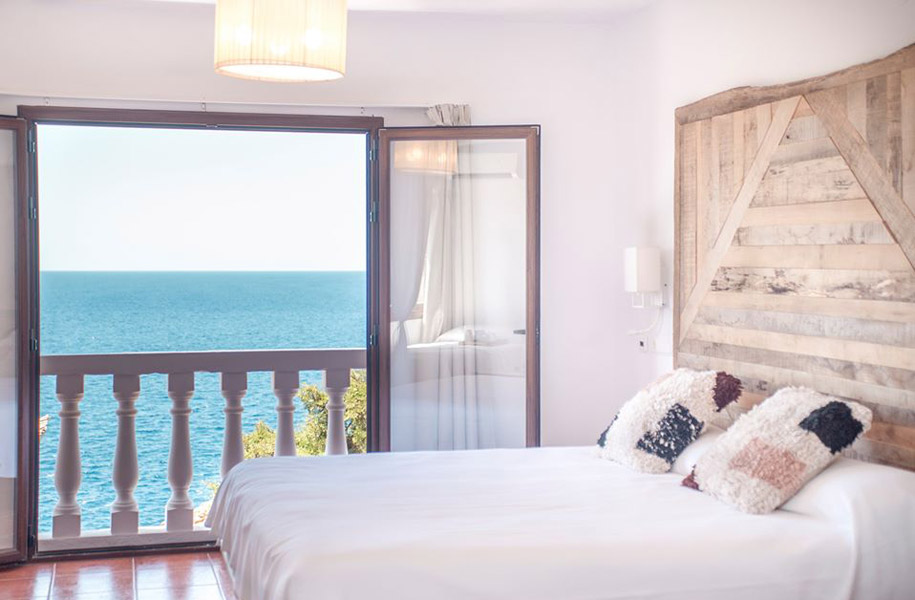 You will come back! © Hostal La Torre

Main picture: Hostal La Torre © Luanda Lopes