Flights, hotels and plans to enjoy Ibiza this autumn
You'd be wrong if you thought that there's nothing to do in Ibiza once the summer leaves the southern hemisphere. Read this post to find out which airlines offer flights to Ibiza this autumn, where to stay and why it's a good idea to visit the island during the off-peak season (or even work remotely from here).
Autumn and winter are the perfect seasons to travel to Ibiza if you want to get a real feel of the Mediterranean essence. Once all the summer buzz is over, it's time for quiet strolls, cafés and restaurants that open all year round and are known for their charming local atmosphere. And cosmopolitan too, as Ibiza's society is becoming more and more diverse, as Europeans take residence here or stay on the island for longer periods. Even more so now that we can work remotely from wherever we are.
Discover Ibiza in autumn. © jthompson91 / Pixabay
Don't give up on the Mediterranean light yet: active ferries and direct flights to Ibiza

As in previous years, Ibiza is still connected in autumn and winter to several Spanish and international airports, and to the ports of Palma de Mallorca, Barcelona, Valencia and Denia (connected through the cruise companies Transmediterránea and Balearia). Discover which is the best route for you and don't give up on the idea of a getaway to Ibiza during the off-peak season. It's a real privilege for those who love nature, good food and peace and quiet.
Which airlines fly to Ibiza this autumn-winter 2020?
The flight routes scheduled for the next few months* connect the island's airport to 5 European cities and 6 Spanish cities. So if you have a connection, there's no excuse not to come.
London: British Airways.
Amsterdam: Transavia and Vueling.
Eindhoven: Transavia.
Paris: Vueling.
Dusseldorf: Eurowings.
Barcelona: Iberia, Vueling and Ryanair.
Madrid: Air Europa, Iberia and Ryanair.
Seville: Ryanair.
Palma de Mallorca: Air Europa and Iberia.
Valencia: Iberia and Ryanair.
Málaga: Ryanair.
Until the end of October, there are many other routes, like those linking Ibiza to the airports of Bilbao, Alicante, Lisbon, Santiago, Milan, Rome, Zaragoza, Rotterdam and Brussels among other options, so check your favourite search engine for the best flight for your dates.
* Note: Flight routes foreseen for autumn on 23 September. Due to the current situation caused by the pandemic, airlines may change these routes depending on the epidemiological criteria at the time.
Which hotels will remain open in Ibiza this autumn and winter?
Ibiza has a broad range of hotels that remain open during the off-peak season. This year will be no different, as long as the pandemic allows it. If you're planning an autumn or winter getaway, but you're worried you won't be able to travel because of health restrictions at your origin or destination, don't fret, because hotels are being very flexible with their rates as long as you cancel the booking for causes related to COVID-19.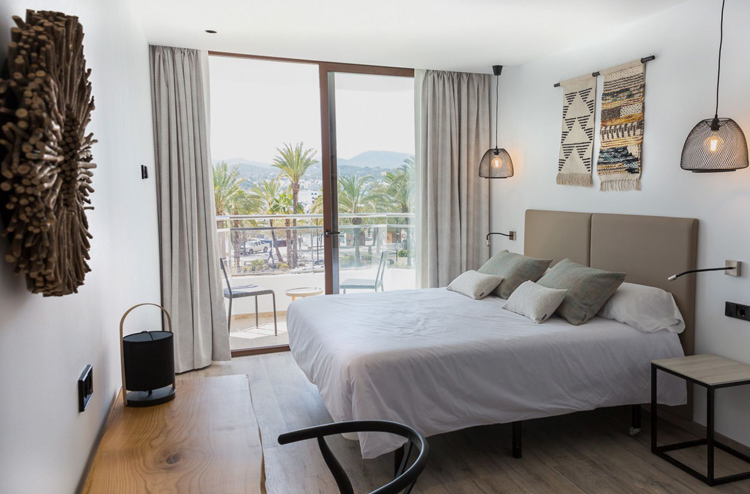 Most of the rooms at Sa Clau by Mambo have views of the promenade. © Sa Clau
Two of the hotels keeping their doors and bookings open for the coming months are our own hotels in San Antonio: the urban hotel Sa Clau by Mambo and our boutique hotel Hostal La Torre, with wonderful views of the sea, Conillera island and the famous Ibizan sunsets. If you like peace and quiet, sipping a good cup of coffee with a sea view and the fresh scent of Mediterranean woods, we suggest you stay at Hostal La Torre. But if you would rather visit a square, experience the local life and have everything nearby, Sa Clau by Mambo, with its modern rooms and a view of the harbour, is the ideal choice for you.
Hostal La Torre is always open

Regardless of which month you visit, you will always find Hostal La Torre open. This charming and romantic boutique hotel stands on a peaceful spot on the western coast of Ibiza. Its privileged location on a cliff overlooking the Mediterranean Sea, makes it the ideal haven to rest, get away from the hustle and bustle of the city, drink in its energy and the beauty of the sea, do yoga with the evening sun as a backdrop, walk between pine trees and juniper trees, read a book with a cup of coffee, enjoy delicious food and admire the spectacular sunsets from the terrace of our café-restaurant with the best background music. So if you'd like to escape to the White Island this autumn or winter, don't miss ourbest offers for Ibiza in the off-peak season and book your stay with us straight away.
Get away from winter in our beautiful junior suite. © Hostal La Torre
Ibiza, the perfect destination to work remotely

Since you've had to work remotely, have you been dreaming with going to live elsewhere for a time? If you love to travel and meet people, you're flexible and you're free to arrange your work hours as you like, you might well be thinking about the best places in Europe to work remotely. We'd love to help you with that: Ibiza is one of those places. If you don't believe us, read our 5 reasons to come over to Ibiza with your laptop:
The climate in Ibiza is very pleasant in the winter, with many sunny days and mild temperatures during the day.

You're one step away from the countryside to enjoy your favourite sport: walking, riding a mountain bike or racing bike, going on a stand-up paddle, diving, windsurfing, kite surfing, sailing...

You'll soon stop being a stranger as winter is the best time to get to know the local people: go to the street markets of Sant Joan and Sant Jordi, spend an afternoon reading on a terrace in Santa Gertrudis, visit the Sant Antoni farming cooperative if you're interested in locally grown food with no carbon footprint, find your special place on our terrace as you wait for the sunset…
The food and local produce are fabulous.
Everything is at hand as the longest distance between the furthest points on the island are an hour away at the most.
What's keeping you from coming to visit us? We're looking forward to seeing you!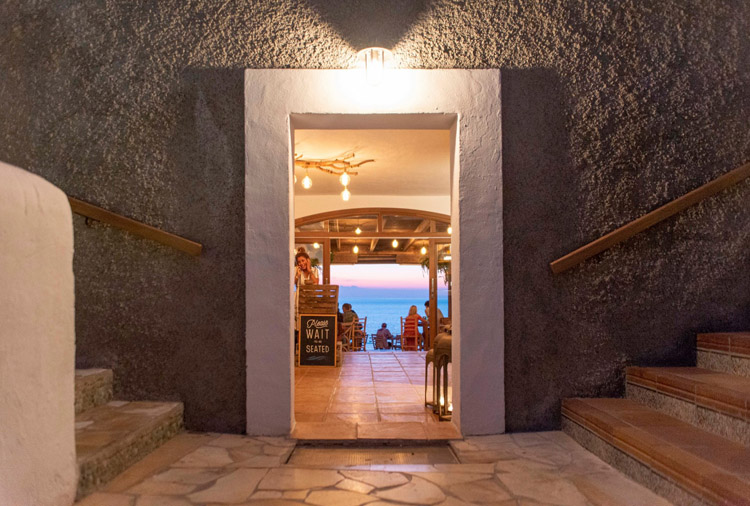 Our doors are always open... © Hostal La Torre
Main picture: Peter Müeller / Pixabay