Romantic dinners in Ibiza by the sea
On the White Island, it's not hard to find romantic restaurants but it is hard to choose only one! So we thought we'd help you decide by giving you a selection of wonderful restaurants for a romantic dinner in Ibiza by the sea. Now you only have to choose the one you fall in love with (what else!)
Restaurantes románticos de Ibiza junto al mar

Nuestra isla tiene la ventaja de tener un tamaño lo suficientemente abarcable como para ir de este a oeste y de norte a sur en menos de una hora como máximo. Pero por si acaso no te gusta moverte de tu zona demasiado, te vamos a recomendar restaurantes abiertos junto al mar por la noche en los cuatro puntos cardinales de la isla.
Romantic DINNERS IN SAN ANTONIO by the sea
Cala Gracioneta
This chic beach bar is on a cove that goes by the same name and is a great choice for an early dinner with a sea view. At this magical place you'll want to take off your shoes and clothes and enjoy a sensual swim after dinner. You will come back. You might even get married here if you have your wedding in Ibiza (or renew your vows)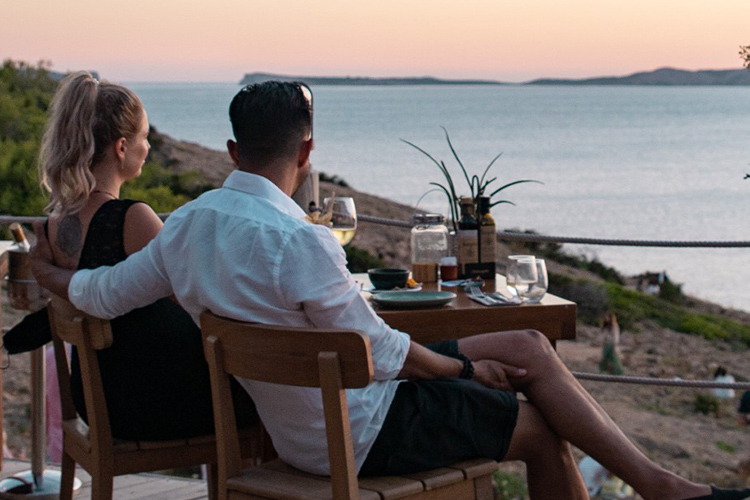 Love, love, love. So much love in Hostal La Torre!. © La Torre Ibiza
Hostal La Torre
One of the most romantic places in Ibiza for dinner with your partner with the sunset as the backdrop is the terrace of our boutique hotel on the outskirts of San Antonio, by the cliffs of Cap Negret. Enjoy an unforgettable evening admiring the stunning view of Conillera island and Nonó cape while the sun sets, sipping your favourite cocktail, listening to the best Balaeric sound music and eating delicious food to relish a romantic evening in Ibiza.
Villa Mercedes
The views of San Antonio marina and the extra dose of romanticism offered by this restaurant make it one of the essential suggestions for a memorable dinner with your partner. Its Mediterranean food with a global touch is delicious and inspiring. And you know how good food sparks all sorts of appetites... Here's our recommendation: if you want to make your evening extra special or you're planning to pop the question, book the table on the balcony. You'll love it!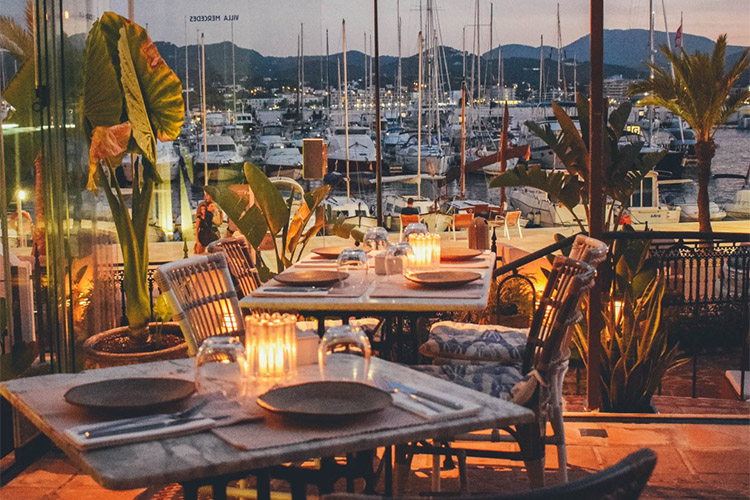 Villa Mercedes, so romantic, don't you think?. © Grupo Mambo
Dinner for two by the sea in other spots in Ibiza

Amante Ibiza
This is without a shadow of a doubt one of the most romantic restaurants in Ibiza to see the moon rise, as it's on the eastern coast of the island peeking over the remote neighbouring cove of Cala Llonga. Don't turn up without booking a table or you'll end up heartbroken...
Cuatro Latas
This beach bar in Cap Martinet, at the end of Playa Talamanca, is very rustic and they don't take credit cards or bookings so you won't even know if you can have dinner until you get there, but it's still worth it because of fabulous views over the city of Ibiza, waves practically at your feet and loads of romanticism. It's a pretty simple menu: they only serve the catch of the day on the grill with potato salad, or lamb chops for meat eaters.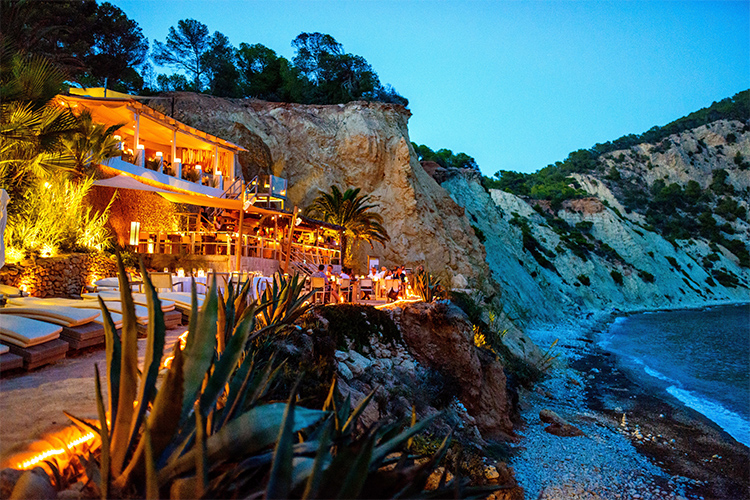 Amante is one of the most romantic places in eastern Ibiza. © tasyamenaker.com / Amante
La Escollera Ibiza
With over 40 years of history, this restaurant in Ibiza overlooks the beach and the dunes of Es Cavallet and is an excellent place to enjoy a romantic dinner on a summer evening. Don't go overboard with the drinks because you'll have to drive back the narrow road that goes along the pools of the salt flats...
The Boat House
On the beachfront of Cala Sant Vicent, this restaurant with its nautical décor has romantic corners to enjoy a delicious dinner with global flavours and tempting desserts and ice-creams to add a sweet touch to your dinner for two. And don't be in a hurry to get back: sit between cushions and Ibiza's night will work its magic.
Foto principal: © Hostal La Torre