Try our new pairing dinner with Perrier Jouët 2021
Life at Hostal La Torre is always a little slower, more Mediterranean, prettier and much more delicious. In addition to a glorious susnet that we enjoy every day and our boutique hotel open all year, our cuisine is exquisite. And we like things being done well, over a low heat, with all the essence of the Mediterranean to awaken your senses. This is why this year with an exceptional tema we would like to introduce a new exclusive experience at Hostal La Torre.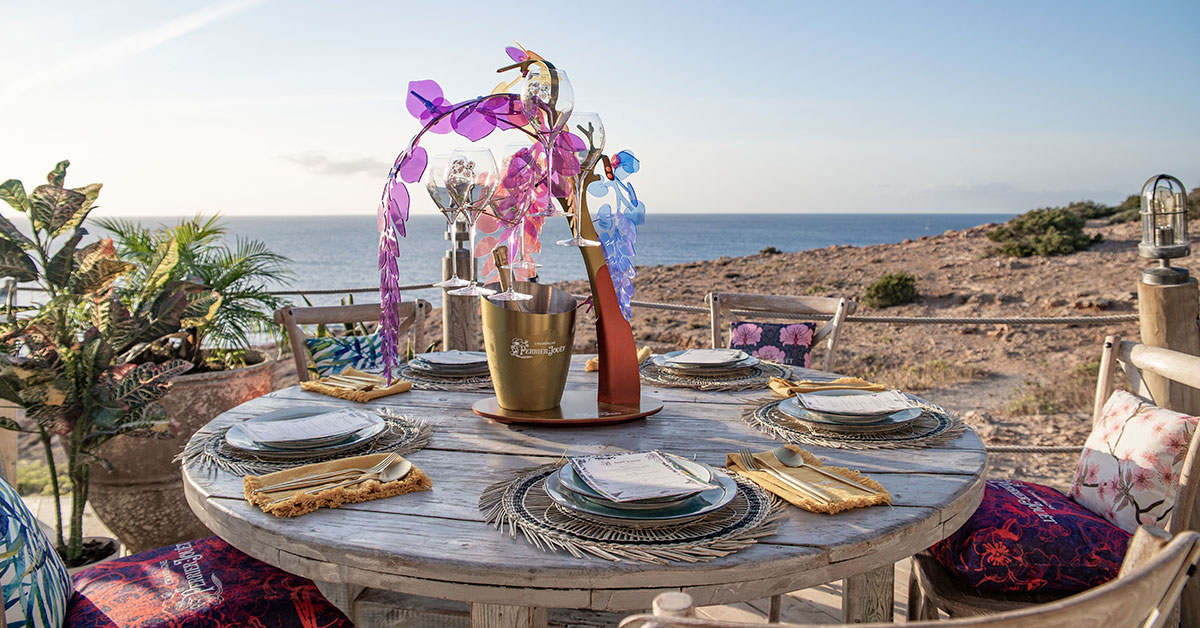 A UNIQUE EXPERIENCE IN AN EXCEPTIONAL PLACE
This summer, as a novelty at Hostal La Torre, we offer our clients an exclusive Perrier Jouët paring experience to enjoy with all your senses. Nature, the sunses, the exceptional scenery that Hostal La Torre offers us 365 days a year and the true essence of Ibiza will ensure you enjoy a unique and bubbly experience at the hands of the prestigious Perrier Jouët brand.
FOTO
The experience is designed for groups of up to 6 people and the price is 250€ per person. The pairing menu includes a delicious medley of 5 dishes paired with an exclusive selection from Perrier Jouët. If you want to surprise that special someone you can contact us for a couples reservation. Or if you want to organize a unique experience with more than two people, we will need a deposit of 50€ per person that is refundable up to 48 hours before the reservation in case of cancellation.
a paring menu to awaken all your senses
To fully enjoy this experience, we have selected a magical corner corner for Perrier Jouët in whic, not only will you delight your palate with the pairing menu, but you will also enjoy unparalleled views in a spectacular setting. An exquisite gastronomic proposal composed of:
APPETIZER
Caramelized foie mi cuit with homemade brioche Caviar nacarii Del Valle de aran accompanied by blinis and creme freiche
Pairing: Perrier-Jouët Grand Brut
STARTERS
Lacquered aubergine with Parmesan cream
Salmon tartare with avocado and ponzu
Pairing: Perrier-Jouët Blanc de Blancs
****
Tomato tartare
****
MAIN COURSES
Our Lobster roll
Pairing: Perrier-Jouët Blason Rosé
DESSERT
Strawberries with cream
Pairing: Perrier-Jouët Belle Epoque Blanc - Prestige Cuvé
Hostal La Torre is one of those places that will remain in your memory forever, that is why we propose a perfect combination of enjoying a unique sunset combined with an exclusive champagne and a pairing menu which will inspire you to enjoy the real essence of Ibiza.
If you would like to live this experience with us, you can book through our website, selecting the option "Perrier-Jouët experience", or you can call us at (+34) 971 342 271. See you at sunset?