Let's go for tapas in Ibiza
If you like tapas and small dishes to share as much as we do, then go into your close friends' group chat and get everyone going, because today we're off to La Marina quarter. We'll be going all the way there for tapas in Ibiza. To the very heart of the city. And we'll give you other recommendations for tapas on the island for another day. Sounds good, right? Well it tastes even better!
tapas in Ibiza: La Cava

On the Vara del Rey avenue, in one of the emblematic places in the old part of the city of Ibiza, La Cava has a completely new menu inspired by the classic tapas of the Mediterranean and the north of Spain. Sandwiches, croquettes, fish tapas, mouth-watering meat dishes, patatas bravas (potatoes with spicy tomato sauce)... All these proposals are perfect for an appetiser at midday, lunch or dinner with friends or your partner after a stroll through the Dalt Vila and La Marina quarters.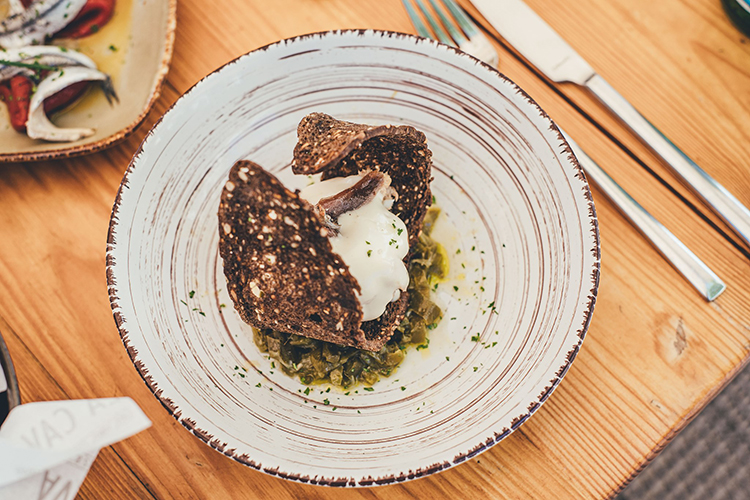 Ensaladilla Kantábrica. © Angel Camarena / La Cava Ibiza
where shall we start?
La Cava's menu has been carefully planned out. It's not long, but you'll soon realise that it's hard to choose. What about the following recommendations to whet your appetite? ham croquettes, tomato and date salad and roasted vegetables with smoked sardines. Or you could start with the Kantábrica potato salad and marinated anchovies with roasted piquillo peppers...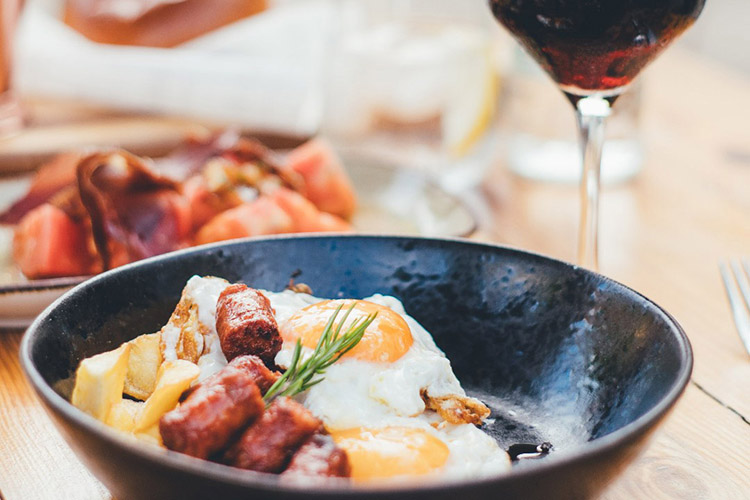 Fried eggs on potatoes with Arbizu txistorra. © Angel Camarena / La Cava Ibiza
what next?
The assortment is so tempting that you'll have to come back again to try them all. Our proposal for your first time of tapas in La Cava? fried eggs on potatoes with Arbizu txistorra (type of chorizo), crunchy squid rings, beef sandwich made with glass bread, traditional ceviche and porc negre sobrasada and Manchego cheese roasted in the wood-fired oven. Or rare sirloin steak, grilled T-bone steak with a side dish, steak tartare, hamburger, squid sandwich... and then finish with the best cheesecake in Ibiza and your favourite cocktail.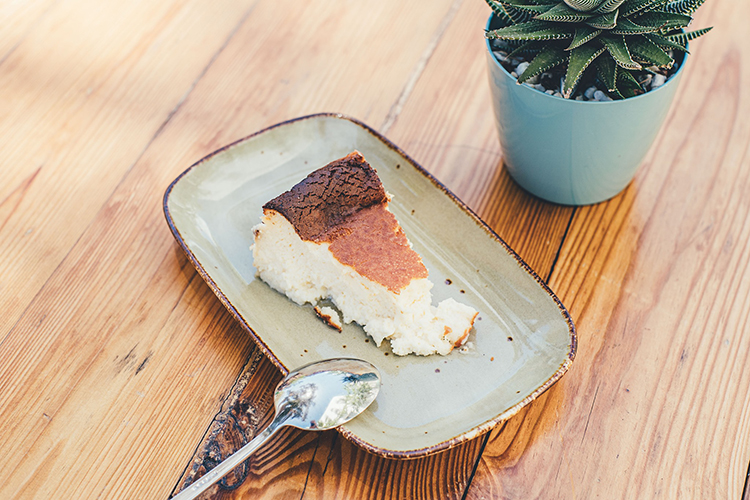 Best cheescake in town. © Angel Camarena / La Cava Ibiza
Other good bars for tapas on the island of ibiza
If you like going for tapas in Ibiza, you can also add to your route these bars and terraces on the island:
Destino
, in Sant Josep: varied tapas with international aromas.
Can Tixedó Art Café
, in Forada: perfect little dishes any time of the day.
El Rincón de Pepe
, in Sant Antoni: a classic bar to taste Ibiza's typical tapas.
Hostal La Torre
, in Sant Antoni: our menu offers some proposals that are great for evening tapas overlooking the sea.
La Bodega Talamanca
, in Talamaca: a good place for tapas after a swim.
Palapa
, in Sant Antoni: for when you feel like tacos for tapas.
Can Moreta
, Ibiza: homemade tapas and pintxos in the heart of the city.
Enjoy!