5 reasons to stay at Hostal La Torre in June
Any time is good to stay at our pretty boutique hotel in Ibiza on the outskirts of San Antonio. But staying with us in June is probably even more special because of all the energy, magic and good vibes the month brings to the island. We mustn't forget that we have the longest days of the year to look forward to. And all that daylight shouldn't got to waste…
In June, Ibiza is ready to give its best. From the moment you wake up until the next sunrise, the most stimulating island in the Mediterranean Sea offers plans for everyone, even those who don't make plans and make last-minute decisions on the spot. If you like the spontaneous spirit that makes the White Island so unique, enclaves that are made for gatherings, music that connects you to the Ibizan spirit, a fabulous view when you wake up and the fresh sea breeze coming in through the window, find out why you should book a room at Hostal La Torre in June and pack your case.
what will you love about Hostal La Torre Ibiza?
1. You'll be very close to the beaches and town bustle
Our boutique hotel with car park stands in a peaceful spot on the western coast of Ibiza, in Negret cape. It's only a 5-minute drive from the bustle in San Antonio, 10-minute drive from Cala Salada and a kilometre away from Cala Gracioneta and Cala Gració. And all this with a wonderful, unique location overlooking the sea, the sunset and the islets of Sa Conillera y s'illa des Bosc. And when it's time to explore the island, its privileged location in the middle of the western coast of Ibiza will allow you to get to the northern and southern coasts and to the main points of interest on the eastern coast in no time.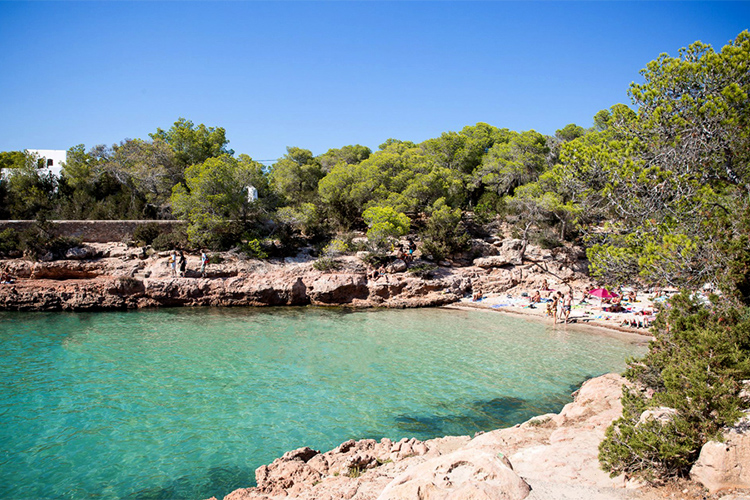 Cala Gracioneta is located a kilometre away from Hostal La Torre Ibiza. © Grupo Mambo
2. Rooms and suites filled with the essence of the Med
Hostal La Torre only has 17 cosy rooms and junior suites decorated in pure Ibizan style, with shades and materials reminiscent of the simplicity of the island's traditional houses, with the typical juniper wood, esparto grass, cotton and pine wood... And as we have different types of room: Double with or without balcony, Double Deluxe, Junior Suite and Junior Suite with balcony, you can choose the one you most like on our website, but do hurry if you'd like the Junior Suite with balcony for your holiday in Ibiza, as it's a favourite among our guests.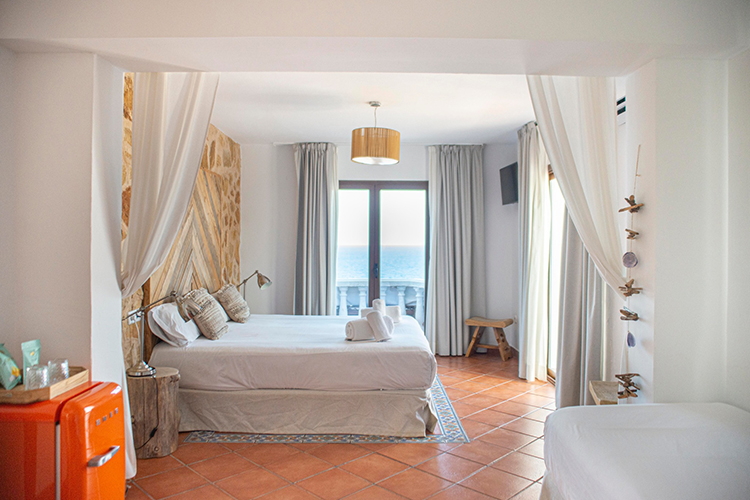 One of our Junior Suite. © Luanda Lopes / Hostal La Torre Ibiza
3. Breakfast, lunch and supper: You'll want to spend all day on our terrace in June!
From breakfast to supper, at Hostal La Torre you'll find delicious food for all tastes, whether you're a vegetarian or you prefer meat, fish or other Mediterranean suggestions with a global touch. Our à la carte breakfast includes, among other things, tempting poached eggs with avocado and smoked salmon, varied fruit and yoghurt, butter croissants, freshly-squeezed juices... And when you come back from your adventures on the island, you can recharge your energy level with a short but carefully thought-out menu based on our best Mediterranean specialties.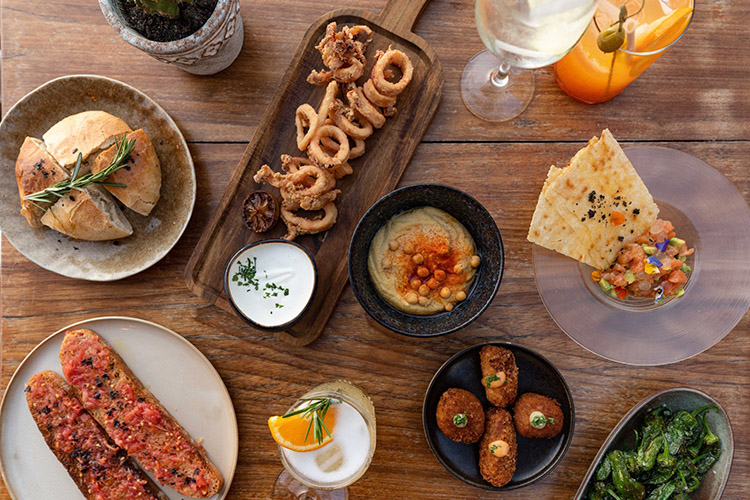 You will love our mediterranean specialties. © Grupo Mambo
4. The best sunset in Ibiza
Our view of the islets of Sa Conillera and s'illa des Bosc at sunset and the iconic profile of Nono cape are addictive. That's why anyone who's had a drink on our terrace at sunset can't wait to come back. If you're staying with us, you simply have to leave your room, sit on the terrace, order a nice cold beer or one of our signature cocktails and enjoy the spectacular view with your travelling companion. Or alone. Because there's no better way on Ibiza to catch the island's good vibes than opening up to a new smile... Without forgetting that the sunset at Hostal La Torre is accompanied by the best Balearic Sound sessions played by our resident DJs.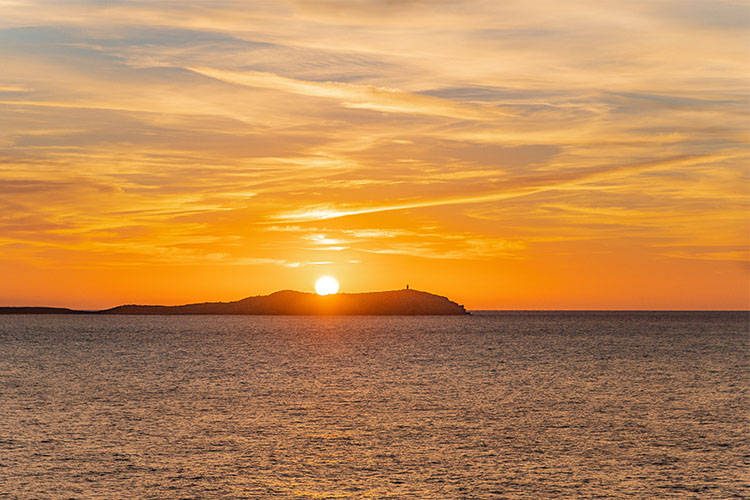 Don't miss the best sunset in Ibiza!. © Grupo Mambo
5. Thorough but relaxed treatment
When you stay with us, we want you to feel as if you're at a friend's home. That's why our staff is there for you whenever you need us, without airs and graces or fake smiles. Ibizan hospitality like in the old times, on first-name terms with honest smiles that will make your stay at Hostal La Torre even more relaxing. We left this till last, but the fifth reason is that we know our guests truly appreciate our staff's treatment. Because everyone likes being treated warmly, right?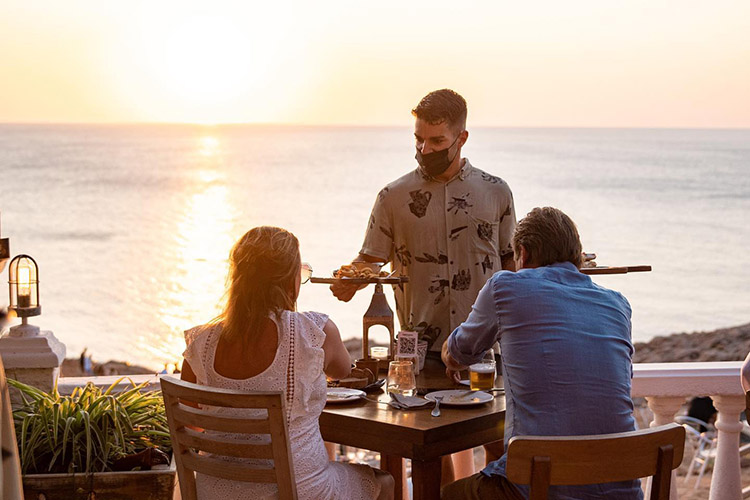 We love to welcome you!. © Grupo Mambo

Would you rather go to a hotel in San Antonio in June?
If you've got an urban soul and would rather stay in the heart of all the hustle and bustle of San Antonio, then we suggest you book at Sa Clau by Mambo, opposite the promenade and harbour of San Antonio, only 400 metres from the beach and 700 metres from the famous Sunset Strip. And if you book directly on the Sa Clau by Mambo website, you'll get breakfast included by entering the offer code BONDI and access to the spa at Las Mimosas hotel.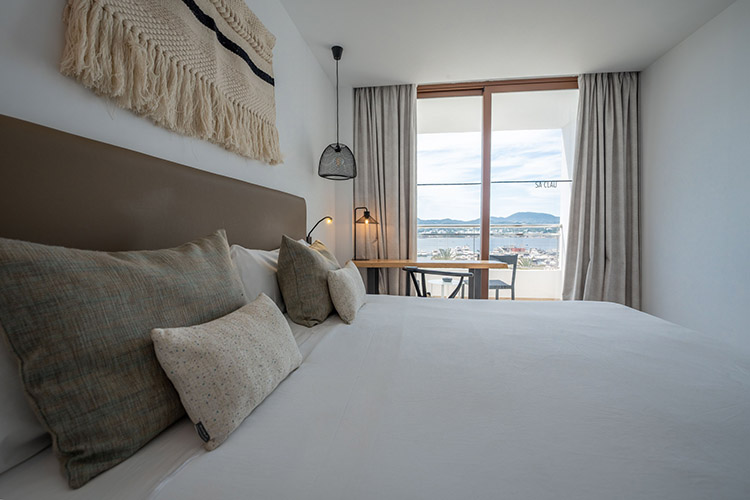 Sa Clau by Mambo is located just in the center of San Antonio. © Grupo Mambo