Explore Ibiza by car in October with our special offer
Early autumn is one of the best times for a getaway to Ibiza as you can go to the beach and explore the most beautiful spots on the island with far less crowds. Our offer includes hotel room + breakfast + car rental and aims to encourage you to explore the island by car, from north to south and east to west. Stay with us and... drive away!
Summer is over... but not Ibiza!
You haven't yet visited the island in the early autumn? If you'd like to enjoy Ibiza through its quieter pleasures, get going with this offer that will help you get to know the White Island. This time of the year you'll find the sea water temperature is nice to swim in, you can still have lunch and dinner outdoors, go for walks along the coast, discover remote spots... And all this in warm weather, with temperatures going no higher than 24ºC and no lower than 16ºC in October. Basically, you'll experience a summery autumn so you'll have to pack your swimwear, sun glasses and a sun hat.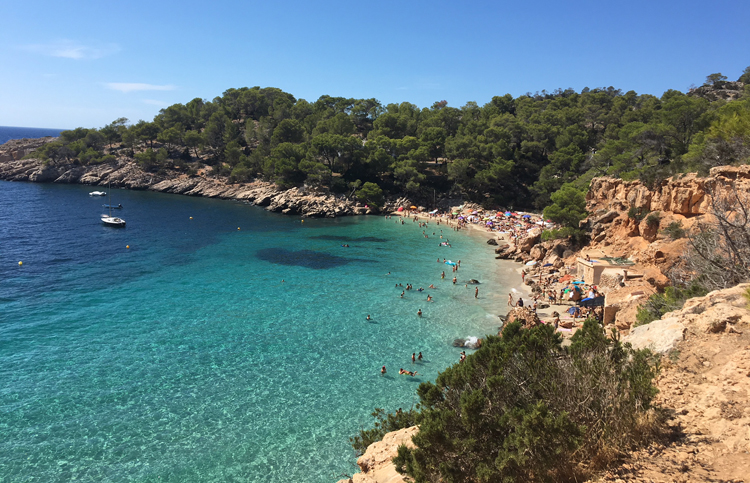 Cala Saladeta. © NC - La Torre
Hotel + car offer in Ibiza: the best plan for October
If you've already made up your mind and want to enjoy the island when it's at its best, get today Hostal La Torre's offer made specially to embrace the end of summer and the start of autumn: Room + breakfast + car included. Simply book directly on our website or write to us by WhatsApp (+34 690 25 62 91) or This email address is being protected from spambots. You need JavaScript enabled to view it., or call us (+34 971342271). This special offer is available for a minimum three-night stay until 31 October. During your stay at Hostal La Torre, your room rate will include car rental too, so you can make the most of your break in Ibiza.
Do you know the north? Is swimming in one of the most stunning beaches on the east coast of Ibiza on your wish list? Have you not yet had the chance to climb up to the top of Sa Talaia for a bird's-eye view of the island? Would you like to return to that special place you discovered this summer? If it's your first time visiting Ibiza, this special offer will help you explore it from north to south and east to west. But if you already know it, maybe you were even here this summer, it's still worth coming again now, as the summer vibe lingers and there are many days left before it gets cold.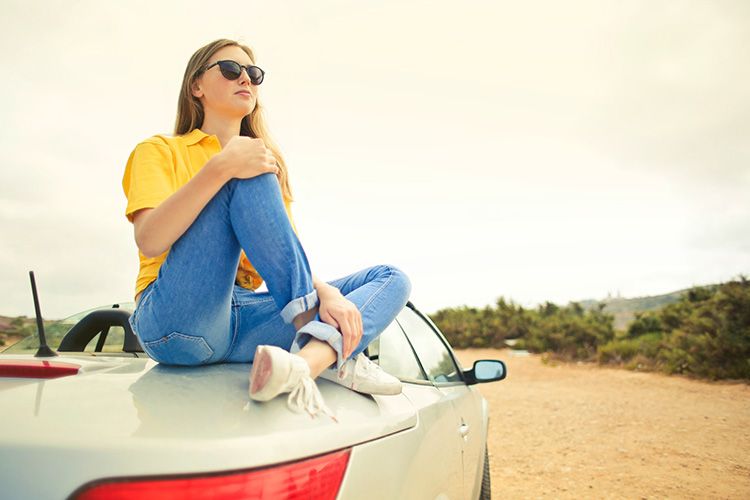 Explore the island by car, from north to south and east to west. © Andrea Picaquadio / Pexels
Four routes to explore Ibiza by car
Route 1: the south of Ibiza
Discover the more hedonistic Ibiza with this route, which you can do in two days, depending on the time you spend on each stop.
The itinerary: Playa de Ses Salines – Es Bol Nou – Cala Jondal – Es Cubells – Cala d´Hort – Sant Josep – Sant Antoni
Lunch: Sa Caleta, in Es Bol Nou; or Cala d´Hort, in the cove that shares its name.
Dinner: Es Gerret
Route 2: the west of Ibiza
Swim in some of the most famous beaches in Ibiza, but far less crowded. This route takes two days, especially if you want to take your time to relax on each beach.
The itinerary: Cala Salada y Cala Saladeta – Cala Gració y Cala Gracioneta – Cala Bassa - Cala Vedella – Cala Molí – Cala Tarida – Cala Conta – Sant Agustí – Sant Antoni.
Lunch: Cala Gracioneta, in the cove that shares its name.
Dinner: Mexican food in Palapa Ibiza with a view of Sant Antoni harbour.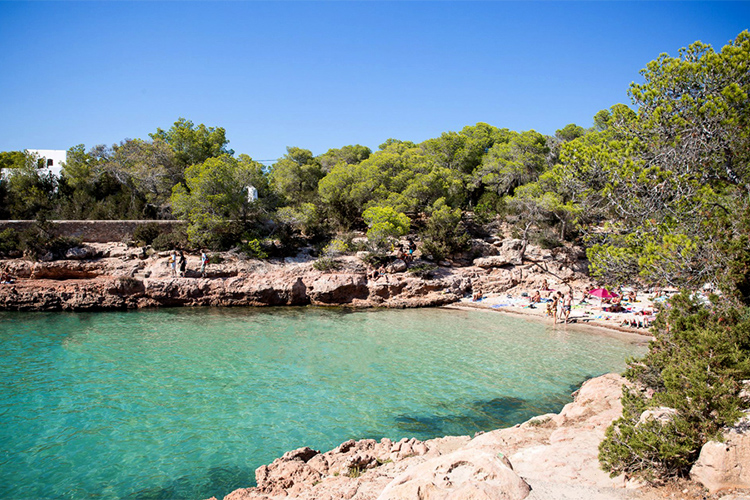 Cala Gracioneta. © Hostal La Torre
Route 3: the north of Ibiza
This drive is especially nice in October, as you can enjoy the small coves in peace and quiet. Also, it goes through one of the most unspoilt landscapes in Ibiza. It's advisable to split it into two days.
The itinerary: Santa Agnès – Sant Mateu – Sant Miquel – Cala Benirrás – Cala Xarraca – S'illot des Renclí – Cala d'en Serra - Sant Vicent – Cala Sant Vicent - Sant Joan – Sant Llorenç – Sant Antoni
Lunch: On the boat, Cala Sant Vicent; or Port Balansat, in Port des Miquel.
Dinner: Hostal La Torre
Route 4: the east of Ibiza
The eastern side of the island is the most family-friendly and also boasts some important sites of interest you mustn't miss, as well as stunning coves and beaches.
The itinerary: Santa Gertrudis – Sant Carles – Playa de Aigües Blanques – Es Figueral – Cala Nova – Santa Eulalia – Sant Rafel – Sant Antoni
Lunch: Bar Anita, in Sant Carles; or Aiyanna, in Cala Nova.
Dinner: Es Ventall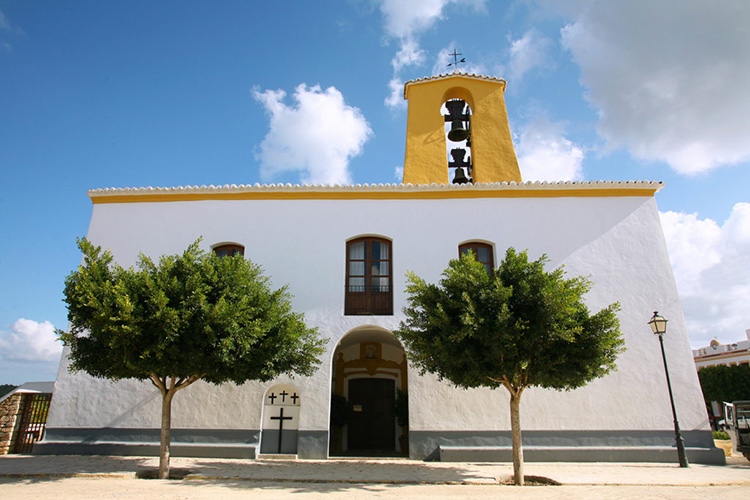 Santa Gertrudis. © Visitsantaeulalia.com
Main picture: Oleksandr Pidvalnyi / Pexels