23 useful questions about Hostal La Torre
Our hotel, with its splendid view of Ibiza's sunset and its restaurant with DJ sessions, is one of the most special places on the island. So much so, that it's easy to fall in love with it before you've even set foot in it. If you're already head over heels, but you've got a few questions about the hotel, read our answers to the most frequently asked questions. We look forward to seeing you!
Hostal La Torre is in a quiet, remote spot on the west coast of Ibiza, only a few miles away from the centre of San Antonio. Its privileged position means our guests can enjoy a spectacular view of the sea, the islands of Sa Conillera and Illa des Bosc and the outline of Cap Nuno along with Ibiza's sunset all year round, whether you're on holiday and staying at the hotel or simply coming for lunch or dinner on our terrace with amazing views. Care to join us?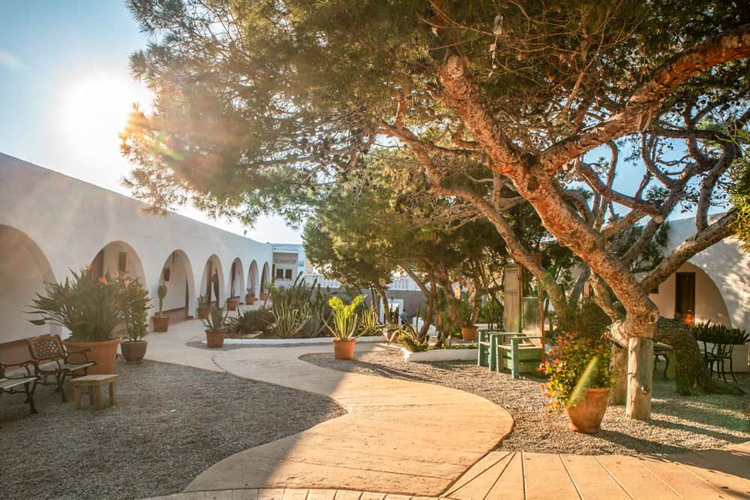 © Hostal La Torre
13 questions about our charming hotel in San Antonio
Here are the answers to FAQs about the services provided by our boutique hotel in Ibiza overlooking the sea.

When does the hotel open and/or close?
Our hotel remains open all year round, so don't hesitate in asking us about room availability for your holidays in Ibiza. During the off-peak season we offer guests special offers for all rooms and suites.
Does the hotel offer airport shuttle between Ibiza airport and Hostal La Torre?
Yes, you can check the rates and hire this service by emailing or phoning our front desk: (+34) 971342271.

Do you allow pets?
No, sorry, we don't allow pets at the hotel, whatever their size.

Can we pay by Bizum? Or American Express?
If you wish, you may pay with an American Express card. However, we don't yet allow payments by Bizum.

What's the distance from Hostal La Torre to the airport?
It's 26 km (16 miles) from our hotel to Ibiza's airport and it usually takes 30 minutes.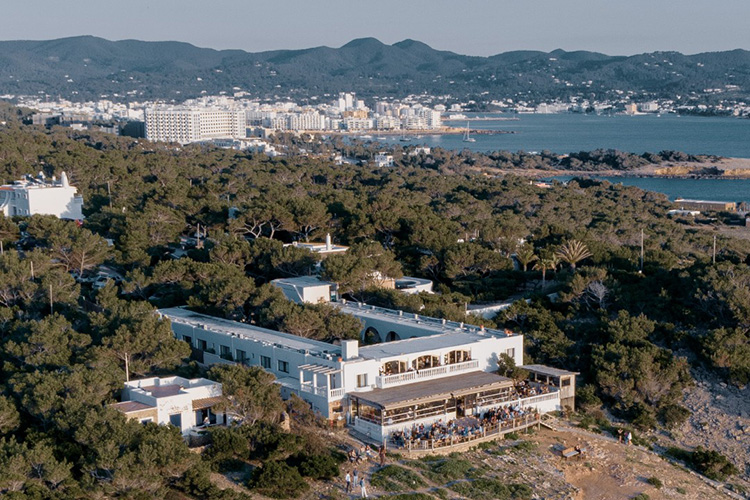 © Hostal La Torre
How far is it from the centre of San Antonio?
Hostal La Torre is near San Antonio, only 4.6 km (2.8 miles) away. If you hire a car, remember we have a convenient car park for guests only.

How far is the nearest beach?
Only one kilometre (0.6 miles) away from Cala Gracioneta, a stunning cove with turquoise waters, and a few meters further on you get to Cala Gració, a charming cove surrounded by pine trees.

Can I book a room with a sea view?
Our Junior Suites face the sea and the sunset. Alternatively, our Deluxe rooms offer a side view of the sea and San Antonio bay.

How many types of rooms does Hostal La Torre have?
We have six types of rooms, three of them with a sea view: Junior Suite with balcony, Junior Suite without balcony and Deluxe.

Is the Wi-Fi connection good enough for me to work?
Yes, it is. Both in the rooms and in our restaurant, you'll get a good Wi-Fi connection for you to work smoothly and spend more days in Ibiza.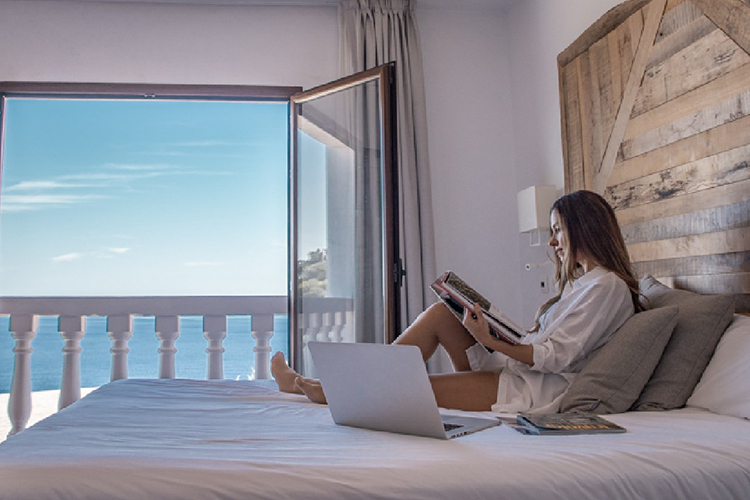 © Angel Camarena / Hostal La Torre
Are there any discounts for residents?
Yes! During the off-peak season we apply discounts to people residents from the Balearic Islands, so please do ask us about this if you're planning to stay at Hostal La Torre or coming for dinner, lunch or a drink at our restaurant with amazing views.
What's there to do at Hostal La Torre?
Our boutique hotel with a sea view is the perfect place to forget about all your worries, relax and rest any time of the year. It's in a natural setting that's perfect for lovely walks from the hotel and it's also close to San Antonio marina, which means you can do water sports or go on private boat trips along the breathtaking western coast of Ibiza. And we regularly offer activities to enjoy during your stay, like yoga and workshops, which we announce on Instagram and Facebook. And if you need to work, it's quiet and there's good Wi-Fi connection.

Is the hotel open on Christmas Day and New Year's?
Yes, we're open throughout the Christmas holidays so you can have lunch or dinner at our restaurant on Christmas Eve, Christmas Day, Boxing Day, New Year's Eve and New Year's Day. For these festive dates, we offer special menus and holiday packages that include room & dinner (plus music and party on New Year's Eve). If you'd like to celebrate these special days at our restaurant or book a room & dinner package, keep a lookout for our news on Instagram or Facebook and grab the chance to spend Christmas in Ibiza.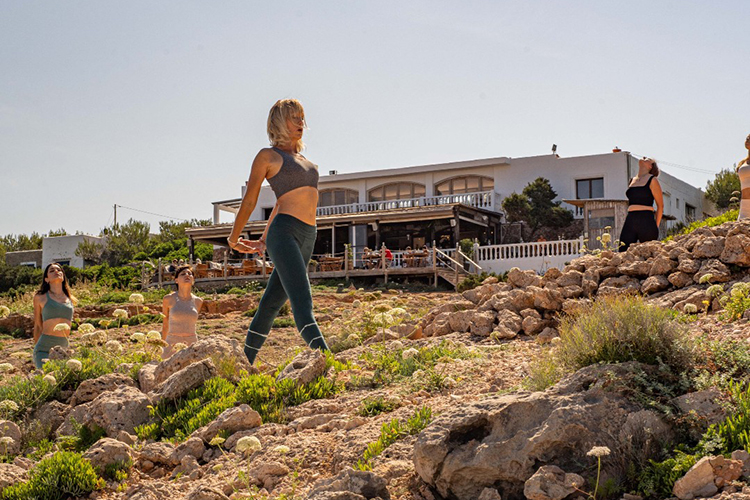 © Hostal La Torre
10 questions about our restaurant and terrace
Here are our answers to your FAQs about our restaurant and terrace, a fabulous place to enjoy the views, good food and a relaxing atmosphere.
Until what time is breakfast served?
Hostal La Torre offers a wide and wonderful range of sweet and savoury options for breakfast and it's available from 8am till 12pm. Even if you're not staying at our hotel, you're welcome to come over for breakfast.

Until what time is lunch or dinner served at Hostal La Torre?
Our restaurant kitchen is open all year round, from 1pm till 10.30pm, so you can have a late lunch after a morning out on the beach.

Do you serve vegetarian and vegan options?
Hostal La Torre's menu has vegan options, like baba ganoush, hummus, our vegan salad and quinoa salad, as well as vegetarian options including wild mushroom croquettes, patatas bravas (potatoes in spicy tomato sauce), aubergine miso and salad with burrata cheese.

Are there any gluten-free options?
We have gluten-free bread for guests who order it, which means you can eat it with aioli or Iberian ham without worries. If you have a serious allergy to a specific food, please let us know in advance when you book your table to make sure there's no risk of cross-contamination when we prepare your dishes.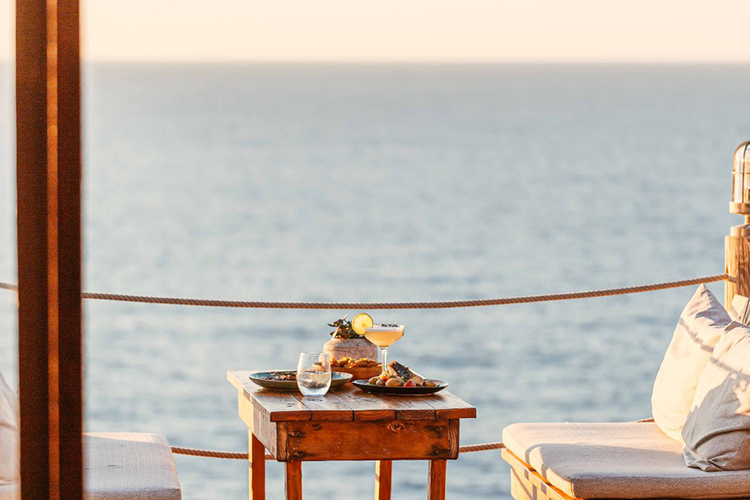 © Hostal La Torre
Is there a DJ every day?
During the summer, we host well-known DJs every afternoon to watch the sun dip behind the horizon at the beat of the best Balearic Sound sessions. And during the winter, we keep an active calendar of DJ sessions from Thursday to Sunday.

How far in advance should I book a table?
In summer, we recommend booking at least one week ahead. In winter, it's best to book two days ahead if you're coming for lunch, dinner or drinks at the weekend.

Do I need to book a table to see the sunset?
In summer, it's hard to find a free table if you haven't booked in advance. The outdoor terrace is reserved for meals, while the cocktail bar and indoor terrace is used for drinks. If the weather is bad and we can't use the outdoor terrace, we reserve most of the indoor terrace for meals.

Can I go for a drink in the evening or is the terrace only available for dinners?
In summer, the tables are reserved for dinners only on the outdoor terrace. In winter, tables are available for lunch and dinner or for drinks admiring the sunset, but restaurant bookings do have priority and get the best tables.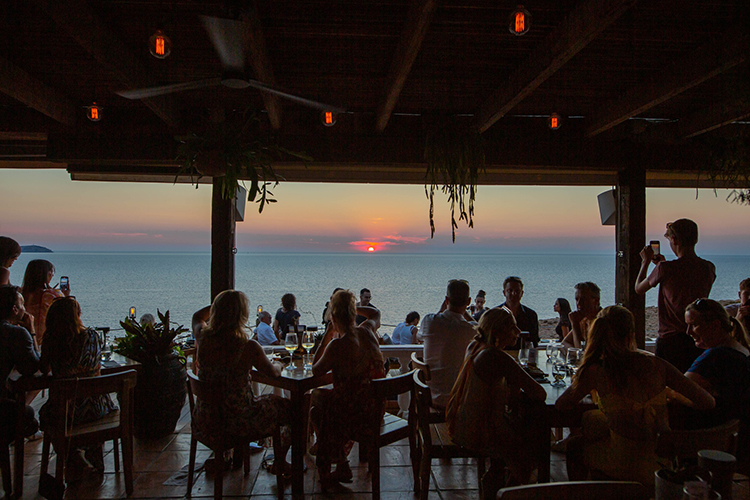 © Hostal La Torre
Do the restaurant and terrace require a minimum consumption?
During the peak season, we do apply a minimum consumption for tables booked for after 6pm. Ask our booking department for more information by WhatsApp +34 690 25 62 91.
What time is sunset?
This is one of the most frequently asked questions. You can see the spectacular sunset from Hostal La Torre every single day of the year unless it's cloudy. Given that the Earth rotates, the place where the sun sets varies depending on the month, the same as the time, which changes one minute per day. As guidance, we've listed the sunset times for the first day of each month (CET):
January: 17:42
February: 18:14
March: 18:46
April: 20:17
May: 20:46
June: 21:13
July: 21:23
August: 21:05
September: 20:24
October: 19:37
November: 17:53
December: 17:32
Check the sunset time for the dates you'll be here on: https://www.sunrise-and-sunset.com/es/sun/espana/sant-antoni-de-portmany/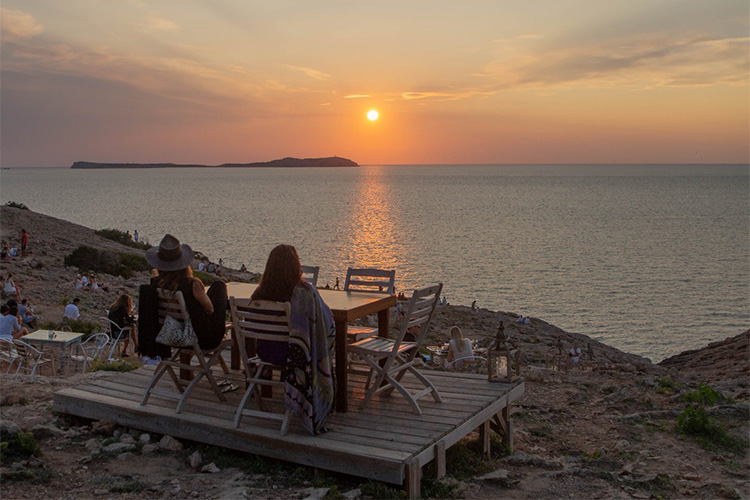 © Hostal La Torre