What about a girls' weekend in Ibiza?
There's nothing better than getting a few weeks ahead of the summer and going on girls' break to the beach. And far, far better if it's in Ibiza. The island not only offers beaches with crystal-clear waters, it also offers restaurants, spas, the best electronic music at the time and masses of boutiques where you will be able to find your summer talisman. What are you waiting for to organise a girls' weekend to Ibiza?
shopping afternoon in Ibiza
In the city of Ibiza you will find countless boutiques selling national and international designs. Don't get distracted by the chains, it's far better to spend your time in the boutiques, like Beatrice San Francisco, Ho-La-La Vintage, reVOLVER, Vicente Ganesha or Ibzcode, among others. The streets of La Marina area and the high street of Dalt Vila are heaving with temptations.
extra pampering
If you'd like more than the beach waves to tone your body, include an extra pampering session at one of the spas in Ibiza for your girls' break. Considering their facilities, we recommend the amazing circuit called Las cascadas suspendidas (La Posidona Spa) or the luxurious Open Spa.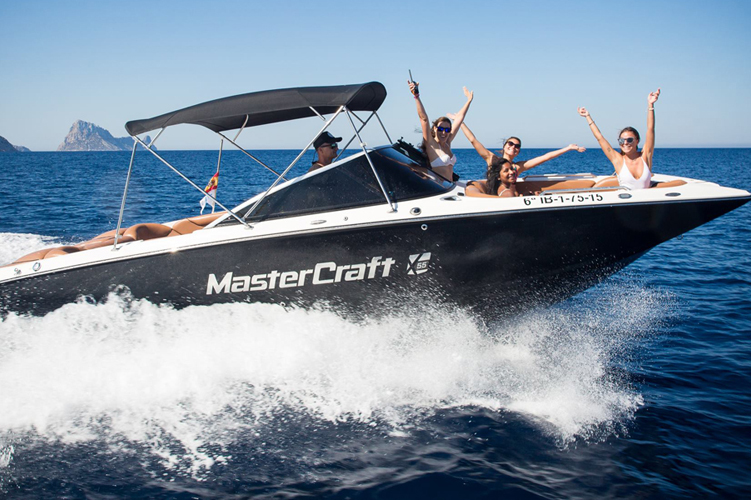 Discover Ibiza by boat and enjoy a great day! © Sunset Boats
Other plans for the day
Explore the Ibizan coast from a boat with Sunset Boats. You can choose a trip in the evening, an all-day outing, a 4-hour trip or a getaway to the neighbour island, Formentera.
Massage overlooking the sea. Hostal La Torre offers a relaxing massage with a sea view given by our expert. Check out the treatments available at the hotel and book an hour to switch off our mind.

Go to the beach to see and be seen. If you don't want to miss anything, go to Ses Salines beach, even if it's only for a day. It's buzzing with life at midday and towards the evening. It's also a good place to get invitations and special discounts to club parties. Cala Bassa and Cala Conta are also lively beaches.
a few ideas for the evenings
End the day on the Café Mambo terrace, terrace where you can watch the sunset and enjoy the best pre-parties in Ibiza.
Feel the energy of Ibiza's nightlife at the famous electronic music clubs that throw parties for all tastes, from the most commercial house music to more sophisticated proposals.
stylish stay at our boutique hotel

Your girls' weekend in Ibiza deserves a unique and special accommodation such as Hostal La Torre Ibiza. On the western coast of the island, you will love the rooms and suites, as well as our Mediterranean garden and our fabulous terrace where you can admire the best sunsets (you can already get a taste of this by listening to our playlist en Spotify)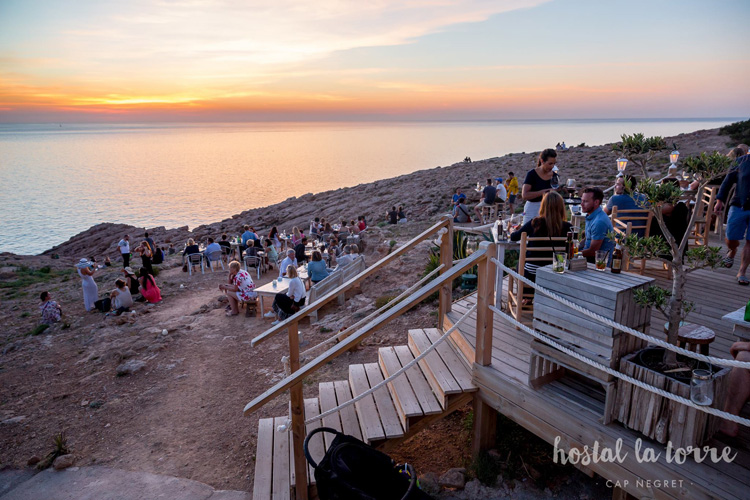 Cover's picture: Pixabay
Haven't you yet seen any sunsets from Hostal La Torre?
Discover in this post the reasons why our terrace will become your next favourite spot in Ibiza.