Today we're off to... Cala Conta
Only about 15 km from Hostal La Torre Ibiza you will find what is probably the most photographed beach in Ibiza: Cala Conta. Its official name is Platges de Comte and it is in fact a group of open coves under sandstone cliffs. Given its beauty, this beach has become a must-see for visitors on the island. If you don't yet know Cala Conta, visit this seashore and don't hold back: if you need to take a beach selfie during your holidays in Ibiza, do it here.
we're off to the beach: Cala Conta
Why do we think you should not miss this group of breath-taking coves? Firstly because of the beautiful shades of its waters: from Turquoise to dark blue. You'll never get bored with the sight... Secondly, the north-looking coves –the main ones– overlook the islets of Ses Bledes and the islands of Conillera and S'illa des Bosc. And if this isn't enough, swimming in these small coves is like swimming in a natural pool thanks to its gentle sloping and its crystal-clear waters where you can even see your toe nails. But remember, careful with the currents as you swim further out to sea. If in doubt, ask the lifeguards.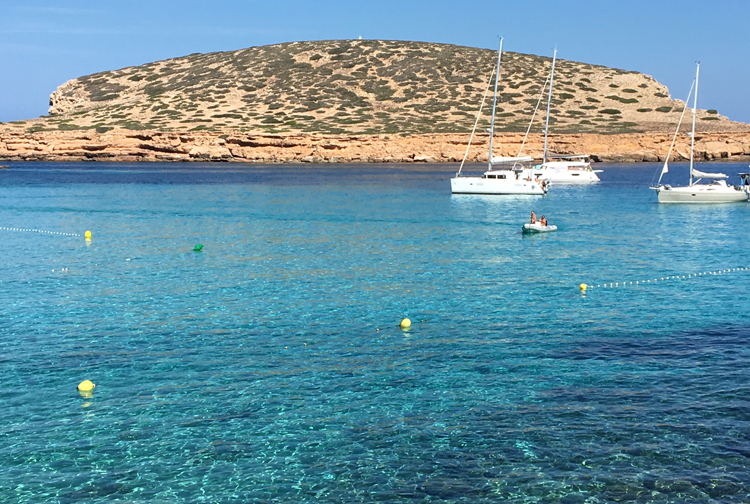 s'Illa des Bosc island from Cala Conta beach © NC/Hostal La Torre
Cala Conta may not be your cup of tea if...

You don't like crowds. Spending a day on the most famous beach in Ibiza has its cons: you will never be alone. But if you still want to visit it, then we suggest you go between 10 a.m. and 12 p.m., when the night owls are still sleeping off the party. Another reason that may put you off this beach is the jellyfish, as these coves are often frequented by them because of their position.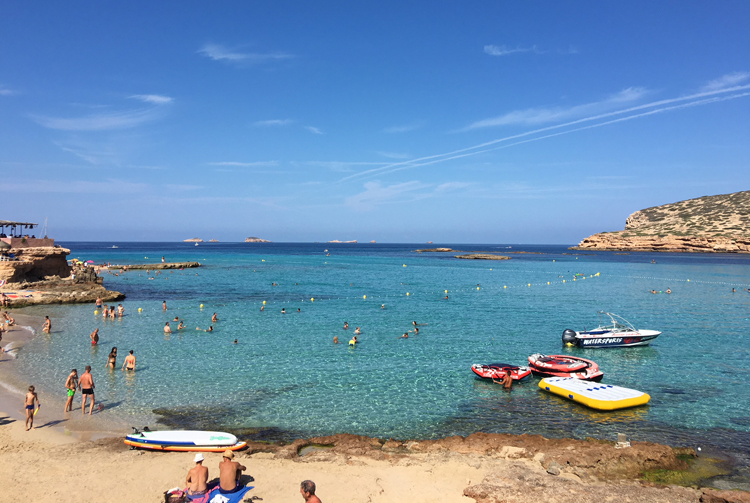 Cala Conta is one of the most famous beaches in Ibiza. © NC/Hostal La Torre
eating at Cala Conta
Along these coves, you'll find four places to eat at lunchtime and two of them are paella and fish restaurants that are well known on the island: s'Illa des Bosc and Ses Roques. The other two options are the Sunset Ashram beach bar and the Cala Escondida beach bar.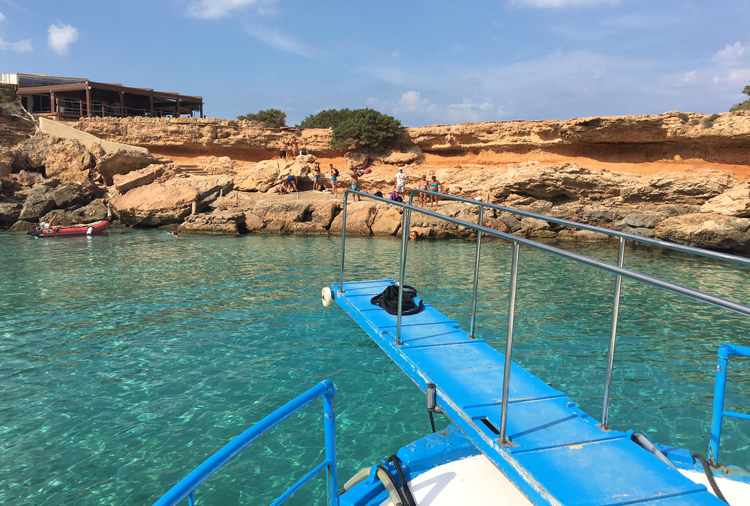 You can get to Cala Conta by bus, by car or by boat. © NC/Hostal La Torre Ibiza
if you're going to Cala Conta, no te olvides don't forget…
You must keep to the parking area for private cars or you'll risk a fine. After parking, you'll have to walk for a few minutes to get to the coves. If you don't want to worry about parking, you can always get to the coves by boat from San Antonio harbour or take the bus from the bus station.
Cala Conta offers a stunning sunset. So if you're going to the coves in the afternoon, make sure you're not in a hurry to leave.
Main picture: © NC/Hostal La Torre Ibiza
Haven't you yet seen any sunsets from Hostal La Torre?
Discover in this post the reasons why our terrace will become your next favourite spot in Ibiza.