Fancy a walk? From Hostal la Torre to Cala Salada
The off-peak season in Ibiza is perfect for donning your trainers and going out to explore the landscape and hidden spots step by step, calmly and healthily. We will start our suggestions for hiking trails in Ibiza with an easy one: the one that joins Hostal La Torre to Cala Salada. So that you can stretch your legs from the very door to your bedroom in our boutique hotel in San Antonio. Sounds like the perfect plan for an autumn morning, right?
hiking trail in SAN ANTONIO: Cala Salada and Cala Saladeta
This circular walk is 12 kilometres long and follows the same route as the one that leaves from San Antonio marina, but this one starts and ends at the terrace of our boutique hotel Hostal La Torre. The trail is easy, it barely has any slopes and you can enjoy a view of the sea most of the walk. There are two options: you can either walk the circular trail following our directions below, or you can walk the path that joins our boutique hotel to the beach of Cala Salada and go back the same way.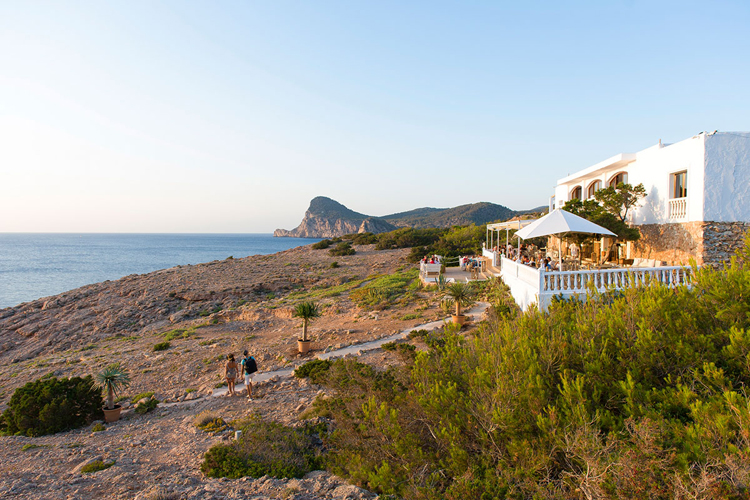 The terrace of Hostal La Torre marks the beginning and the end of this circular route to Cala Salada. © Hostal La Torre Ibiza
walk from Hostal La Torre to cala salada

Head north along the coast keeping the proud profile of cape Nonó in sight. The trail is easily followed thanks to the frequent posts you'll find on the way.

A few minutes into the walk, the path will narrow and make its way between the cliff and the wall of a few houses. Follow the path until you get to Punta Galera and a small cove that some people call Cala Yoga.
Then walk along the coast until you reach the wall of another house and no other option than walking down a paved street. Follow this street until the second street to the left. The rest of the walk is down this street as it snakes its way through a residential area right up to Cala Salada.
Here you can walk the same way back or continue along the paved street towards San Antonio following the road signs. Once you reach the village, you will need to walk along the promenade up to Caló des Moro then continue along the coast passing the Cap Blanc Aquarium, Cala Gració, Cala Gracioneta and Cap Negret and you will be back at the terrace of Hostal La Torre.
Main picture: © NC/Hostal La Torre
**
Planning a sport trip to Ibiza?
Book a room at Hostal La Torre and let our nature landscapes surprise you.