10 Plans in Ibiza for this August
Maybe this summer will be your first time on this fabulous island or maybe you turned it into your favourite paradise years ago, but once thing is for sure: you will find these 10 plans for your trip to Ibiza brilliant in either case. Which ones do you fancy doing?
5 plans for your trip to Ibiza that will tickle your taste buds pink
Ibiza has beaches and coves that will have pride of place in your instagram album, but it also has a fantastic variety of dishes that are irresistible for anyone who loves good food. If you're one of them, take note of these food plans for your coming holiday in Ibiza.
The most jazzed up dolce vita at Mimo's
Thursday evenings at the Italian restaurant in Las Mimosas
hotel offer delicious Italian food that perfectly suits a romantic summer dinner. But this restaurant also brings us other special evenings with amazing live shows, such as Friday nights with Yeshe Ryser, who will spice up your dinner with a touch of oldie jazz. Also, Fridays at Las Mimosas are devoted to welcoming the weekend with tempting proposals grilled at the evening barbeque.
Paellas bursting with the taste of sea
Ibiza is known for fish and seafood paellas full of flavour and rice cooked to be firm to the bite, so it won't be overcooked. You mustn't leave the island without relishing this summer delicacy. Where do you get a good paella? There are plenty of excellent restaurants for this, including Cala Gracioneta, Port Balanzat, El Carmen and Es Pou des Lleó.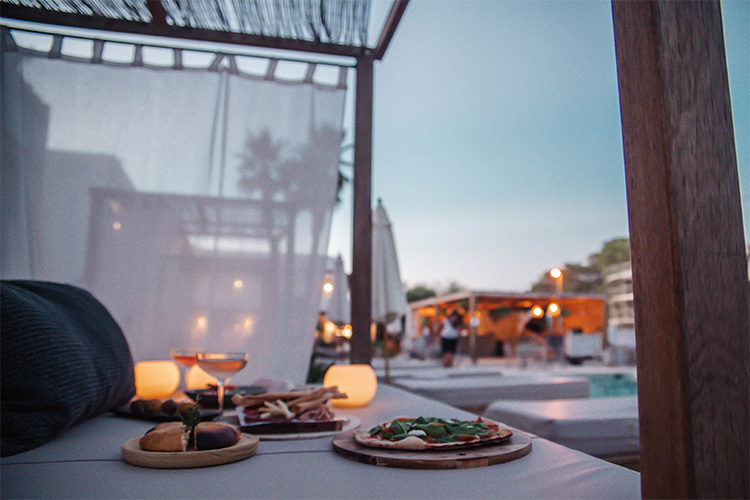 Enjoy at Mimo's. © Angel Camarena / Las Mimosas
Any holiday in Ibiza must include a day for bullit de peix. This typical meal consists of fish and potato stew followed by arroz a banda (rice cooked in fish stock), although some restaurants invert the order. Sa Caleta, Salvadó, El Bigotes, Cas Pagès and Can Pujol are some of the classic places where you can enjoy this dish.
Pintxos and tapas for dinner
This Spanish tradition is the ideal plan on a stroll through the city of Ibiza on a summer evening. La Cava is on the Vara de Rey avenue and its new menu includes mouthwatering proposals inspired by Basque and Mediterranean cuisine, such as its Kantábrica potato salad, sobrasada de porc negre with Manchego cheese, its crunchy squid, its delicious rare sirloin steak or the addictive north-style cheesecake. A wonderful plan after a stroll in the Dalt Vila quarter, for example.
Try the flaó and the greixonera
These two traditional desserts are served at practically every restaurant with Ibizan food. We suggest you try them with a glass of the hierbas ibicencas liquor at Casa Anita, a legendary bar-restaurant in Sant Carles that was known as the meeting point for hippies and artists in the 60s and 70s. Flaó is an almond cake made with goat's cheese and mint, whereas the greixonera is like a flan made with pieces of ensaimada. Do try them!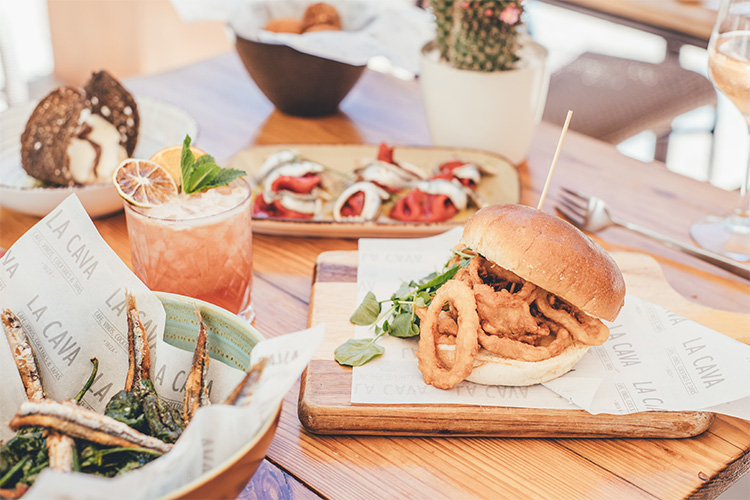 Which will be your next favourite tapa?. © Angel Camarena / La Cava
5 plans you will love no matter how many times you've been to Ibiza
A yoga session overlooking the sea
Whether you regularly practice this ancient discipline or you'd like to try it for the first time during your trip to Ibiza, join the yoga sessions offered at Hostal La Torre in the summer on Mondays, Thursdays and Saturdays. Each session is €33 and includes a fabulous and healthy breakfast at the end of it.
Discover the island on a buggy
EExplore Ibiza's stunning landscape inland riding a dune buggy and then have a delicious lunch overlooking the sea and Conillera island at Hostal La Torre. An exciting outing that can be hired at our front desk.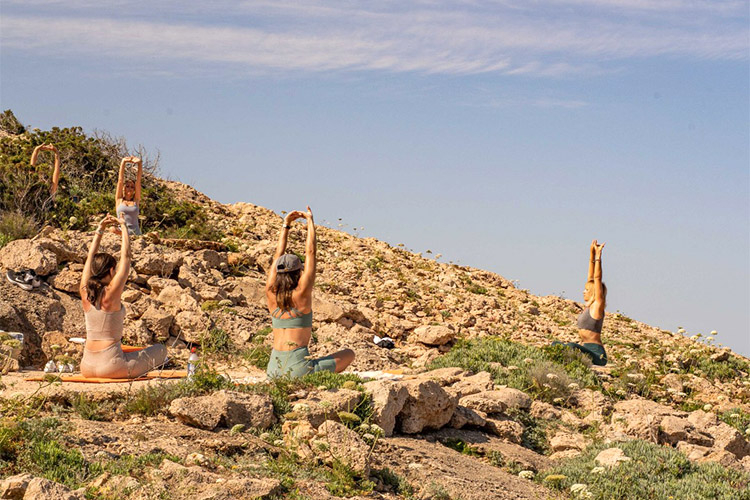 Join our yoga sessions. © Hostal La Torre
Admire the sunset day after day
Ibiza has so many fantastic places with a great view of the sunset that you can find a new view of the sunset on every trip to the island. Enjoy the sunset from Hostal La Torre's terrace or from Platges de Comte, Cap Negret, Cala Benirrás, the Nature Reserve of Ses Salines, the cliffs of Cala d´Hort and Cala Llentía, atop Sa Talaia hill… Or of course, from a boat deck: contact Mambo Concierge and hire an unforgettable afternoon on a boat.
The beautiful island next door is an irresistible magnet for instagrammers and lovers of beaches with turquoise waters. Thanks to the beautiful different shades of blue wetting this beach, Illetes makes every top-ten list of beaches in the world. If your holiday is more than five days long, don't forget to add Formentera to the list of plans for your trip to Ibiza.
Explore the hippy side of Ibiza
This summer, visit the most famous street markets in Ibiza as the most popular ones are up and running again: the hippy market of Punta Arabí, the largest of them all; Las Dalias market with an excellent variety of stalls; and the Sunday market at Sant Joan selling the island's local crafts.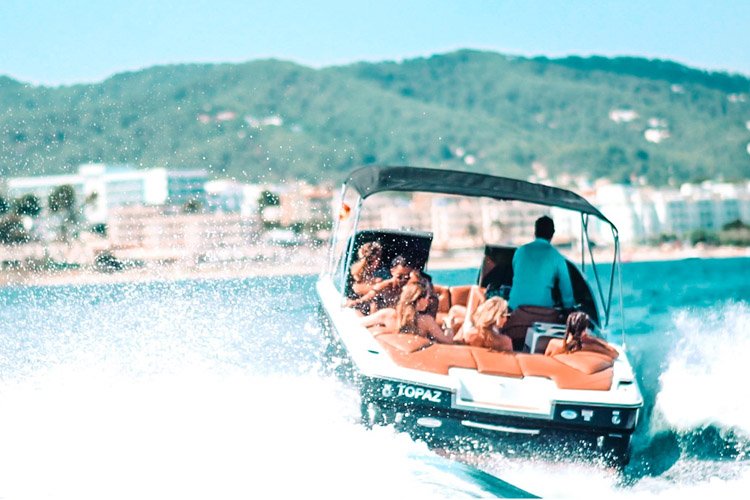 Book your sunset trip or a full day cruise day by Mambo Concierge. © Grupo Mambo