Our guide to quite beaches in Ibiza (event in August)
Some love lively beaches while others prefer to get as far away from the crowds as possible, even if it's only for a few hours. You'll find this guide of quiet beaches in Ibiza very interesting if you like to hide in a remote cove or sunbathe on a peaceful beach.
the best hidden coves in Ibiza
You will fall in love with these coves. If you're planning to lie down on a towel for hours, take something to drink, eat and, especially, sunscreen. We won't be revealing all of them, but we assure you that the ones on this list are very well hidden. Because don't want to tell all our secrets, do we?
Sa Caleta (Sant Josep)
In this natural port full of boathouses, you won't find any stretches of sand to lie down on, but you will be able to enjoy a quiet swim in one of the most beautiful spots in the south of Ibiza.
Sa Caixota (Sant Josep)
This cove is in the housing development that goes by the same name and can be deserted even in August. It's advisable to take water shoes as access into the water is a bit rocky.
Cala Llentrisca (Sant Josep)
In this beautiful hidden cove you will have a wonderful swim as long as you don't mind stretching your towel out in front of boathouses. It's on the road to Ses Boques.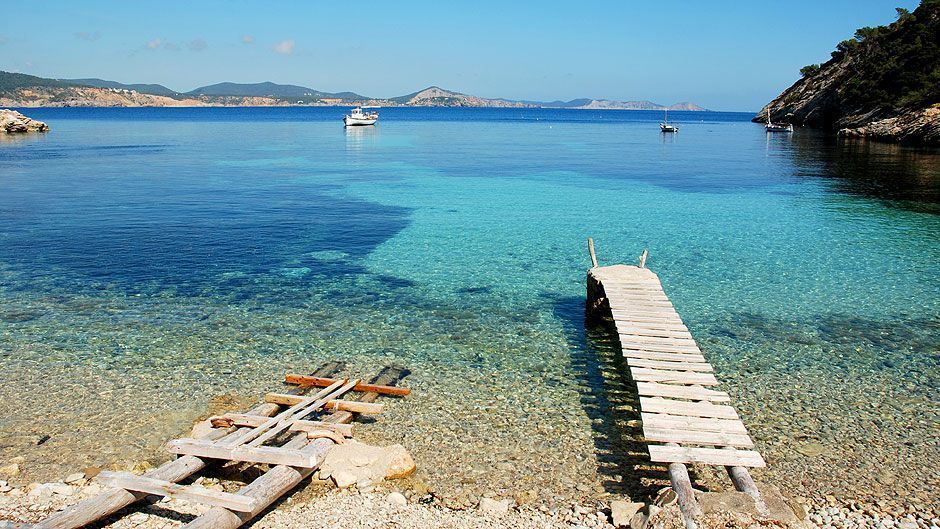 Cala Llentrisca
Es Portitxol (Sant Joan)
Until only recently, this was a well-kept secret but it's still a remote cove with very few people because you have to walk quite a bit to get to it. Save some energy and water for the walk back from this stunning cove.
Cala Galera (Sant Antoni)
Near Punta Galera, this cove is usually peaceful all year round. But don't forget to take water shoes and goggles. Come from Hostal La Torre by following a hiking route that reaches Cala Salada.
Caló des Gat (Santa Eulària)
Right next door to Cala Martina, this nudist cove is at the foot of a cliff and doesn't have much space to sunbathe, but it's great to swim.
Es Canaret (Sant Joan)
This small cove near Cala Xarraca is quiet, beautiful and is usually frequented by bathers who seek privacy. It's not a secret anymore, but nearly...
Caló d'en Calders (Sant Joan)
You'll have to walk for at least 10 minutes to get there and remember to take sunscreen, water and a sunhat. This small remote cove near Portinatx is perfect to get away from the world and your worries. If you hate lying down on dry posidonia, leave this one out.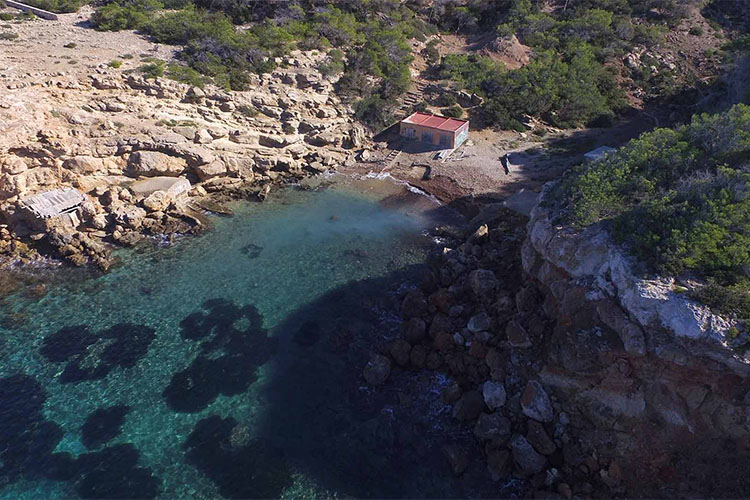 Cala Galera. © Illesbalears.travel
Quiet beaches and coves in Ibiza, even in August
If you like solitude and peacefulness but not too much, these beaches and coves are perfect for you as they have the conveniences of beaches with services (or at least some conveniences) and the peacefulness of less crowded coves.
Es Codolar (Sant Josep)
The pebbles that cover this beach near the airport have kept the crowds away, but once you're in the water, the bed turns into fine sand. You will love it as long as you don't mind planes landing nearby, of course...
Es Xarcu (Sant Josep)
This quiet cove in the south of the island is especially frequented by the clients of the famous and not at all cheap beach bar that shares its name (don't be fooled by its rustic look).
Cala Molí (Sant Josep)
It's not unknown, but this cove is rocky and the need to wear water shoes deters bathers who seek comfort over peace. It is very beautiful!
Cala Codolar (Sant Josep)
This small cove is the ideal choice when you want to escape the crowds on the popular Platges de Comte. It has a beach bar, a peaceful atmosphere and crystal-clear waters. What more can you ask for?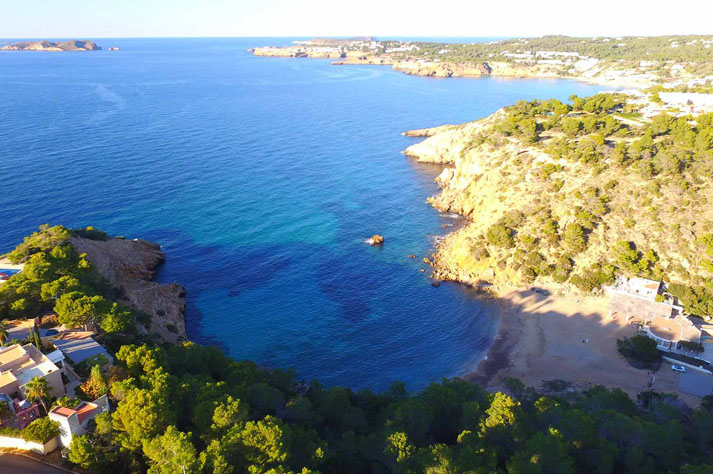 Cala Moli. © Illesbalears.travel
Es pas de s'illa (Sant Joan)
This spit of sand that joins the coast of Port de Sant Miquel with the islet of Sa Ferradura is usually quiet, even in the height of summer. If you're walking there, you will pass by another quiet cove: Caló des Moltons.
Canal d'en Martí (Santa Eulària)
If you have water shoes, this beautiful, quiet cove will be paradise for you. Its clean, still waters are perfect to dive and you can later have a beer at the beach bar in a relaxed atmosphere.
Cala Xuclar (Sant Joan)
You will love this small unspoilt cove in the north of Ibiza if you're looking for peace, but avoid it if you don't like swimming between rocks.
Cala d'en Serra (Sant Joan)
This remote cove in the north of Ibiza has its own beach bar and is pleasant even in August. Although the currents do tend to bring in debris from the sea. Walking over the rocks you'll get to another cove that's even more hidden.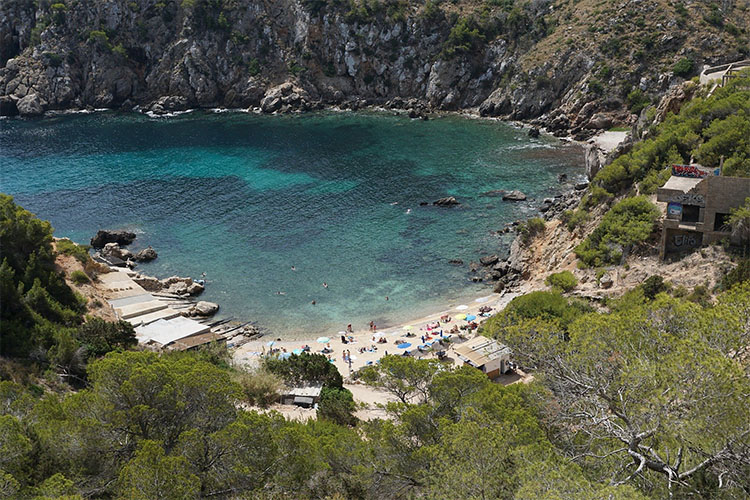 Cala d'en Serra. © Pixabay
Main picture: Pixabay