15 Plans to do in San Antonio in September
Would you like to know what you can do in San Antonio in September? In this village on the west coast of Ibiza and its surrounding area there are plenty of exciting things to do with its many interesting places to visit, the bay and the vast amount of outdoor activities available. Follow our suggestions and enjoy a fabulous holiday in Ibiza.
What to do in San Antonio in September: visits and tours
If you'd like to get away from the beach for a while, September brings these interesting proposals to San Antonio and its surrounding.
Free tour to learn everything about aloe vera
Until 30th September, you can come to the guided tours offered at Can Atzavara, by the highway, where they will teach you interesting facts about this extraordinary plant that belongs to the succulent plant species.
Guided tour of San Antonio
Join the Sant Antoni & Street Art Free Tour and find out about fun and exciting curiosities about the village. You can book the free guided tour at the tourism office or on its web and it is given in different languages depending on the day: Spanish (Saturdays), English (Sundays), German (Tuesdays) and French (Wednesdays).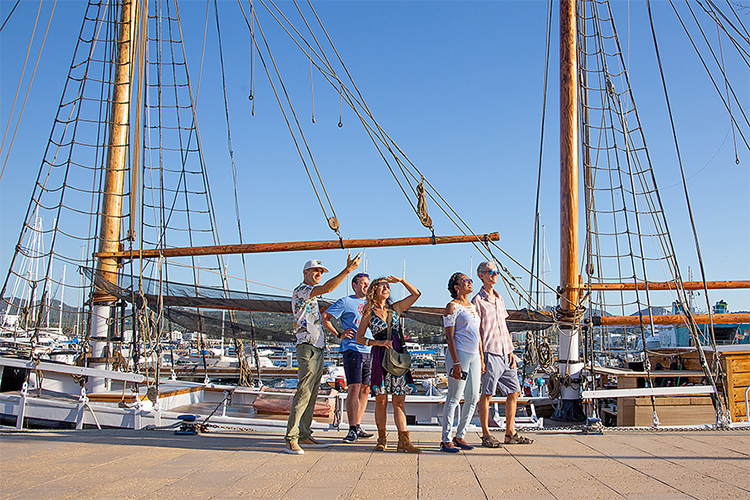 Join the guided tour of San Antonio © Lila Licciardi / getyourtouribiza.com
Handicraft exhibitions and workshops at Molí d'en Simó
If you'd like to learn about the ancient techniques used in Ibiza to make instruments, clothes and other objects, come to Molí d'en Simó to see the exhibitions and workshops on handmade espadrilles and bobin lace (Tuesdays), baskets (Wednesdays) and country clothes and things made with esparto grass (Fridays).
Play a plant piano
One of the most extraordinary places to visit near San Antonio is Ibiza Botánico Biotecnológico.The philosophy of these biotechnological botanical gardens makes them the most innovative botanical gardens in Europe. You can play a plant piano and taste atmosphere water collected directly from the sky of Ibiza.
Tour of the villages
Head inland to the stunning countryside of San Antonio driving along smaller roads to visit the villages of: Sant Antoni - Forada - Sant Rafel - Santa Agnès - Sant Mateu - Santa Agnès - Sant Antoni.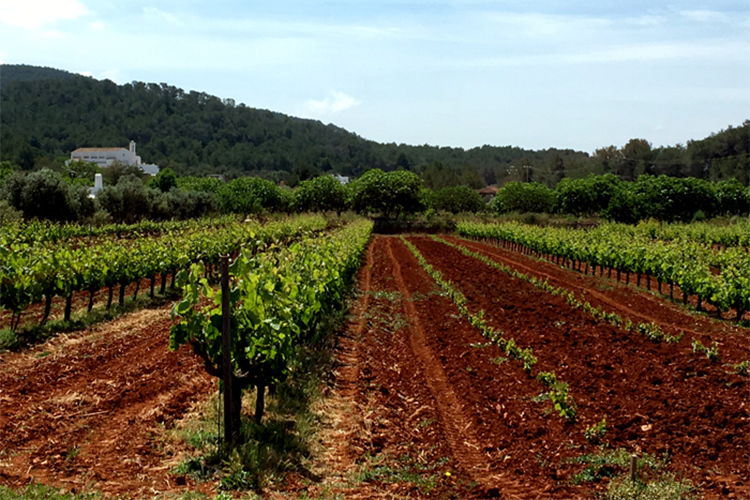 Sant Mateu is one of the towns in the municipality of San Antonio. © NC / Hostal La Torre
Plans to do in San Antonio in September: outdoor activities
There will be plenty of plans for you to fully enjoy the green areas in San Antonio, as it doesn't only stand out for the beauty of its coastline and cliffs, but also for the picturesque charm of its countryside.
A yoga session overlooking the sea

At Hostal La Torre, you can join our yoga sessions to start the day filling your mind and body with energy. It includes breakfast and it's on Mondays, Thursdays and Saturdays. Each session costs €33.
Explore the coast on a paddle-surf board
San Antonio bay is one of the best places in Ibiza to enjoy this water sport given the beauty of the coastline. You can hire your paddle surf ride at sunset with the company Aloha Paddle Surf Ibiza.
Walks and mountain bike
Once the weather cools down, you'll want to go out for walks or ride a mountain bike on the island. We recommend the track that goes to Cala Salada or the one that leads to Es Broll, a quiet, remote natural spot.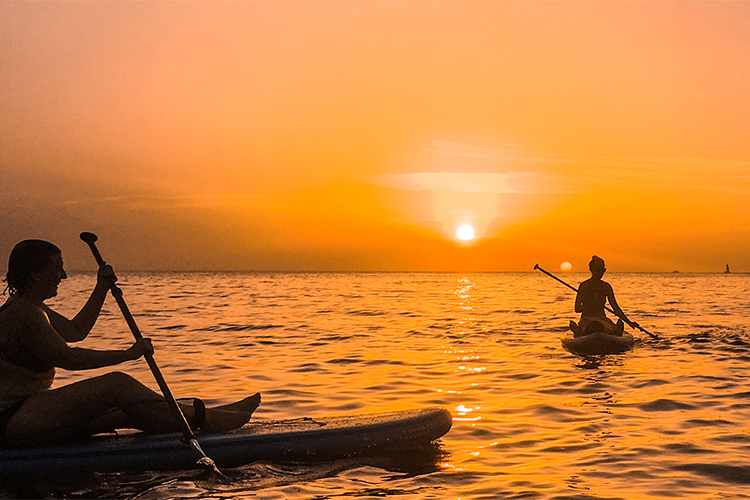 What if you enjoy the sunset on a surfboard? © Aloha Paddle Surf Ibiza
Other plans on the events calendar for september
The weekly food markets of Forada (Saturdays) and Sa Cooperativa de Sant Antoni (Fridays) are the place to buy fruit, vegetables and the island's local food products.
ICONOS: From 7th to 11th September, San Antonio will be running events and activities to celebrate the LGTBI culture.
Romantic dinner at Villa Mercedes: a perfect plan for a summer evening in Ibiza eating delicious Mediterranean food.
The Fiestas of Sant Mateu: the local fiestas in Sant Mateu are a good excuse to visit this village inland and see their folk dances.
Watch the sunset from Café Mambo: enjoy the most famous sunset in Ibiza. A classic must-see from May to October!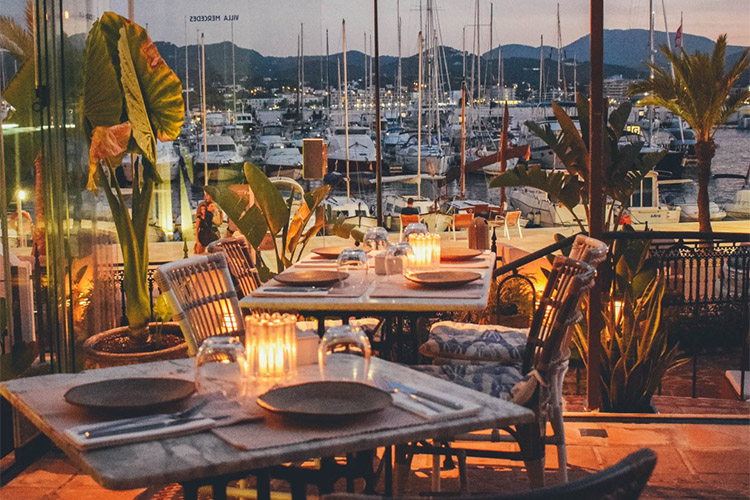 Enjoy a romantic night in Villa Mercedes. © Grupo Mambo
Main picture: Lucian90 / Pixabay