Recharge your batteries with these well-being plans
September is a fantastic month to treat your body to extra pampering and care to tackle the autumn with renewed energy. In the following well-being plans there's room for plenty of asanas, vegetarian delights, sophisticated massages and other healthy plans to make up for the summer overindulgences.
12 well-being plans in Ibiza for travellers and residents
Outdoor plans to clear the body and mind
1. Walking Ibiza
There are very few walks on the island that Toby doesn't know about, so you'll have an exceptional guide if you'd like to treat your body to a healthy walk for a few hours. Among the guided walks suggested by Walking Ibiza, , you'll find night walks, tailored ones, walks for skilled trekkers... There's no excuse to miss this. And if you like to ride, follow the cycling routes in Ibiza.

2. Yoga at Hostal La Torre
Join our new morning yoga sessions and start the day with the sun salutation and a glorious view of the sea. Yoga sessions include a very healthy breakfast and are on Mondays, Thursdays and Saturdays. The price of each session with breakfast is: €33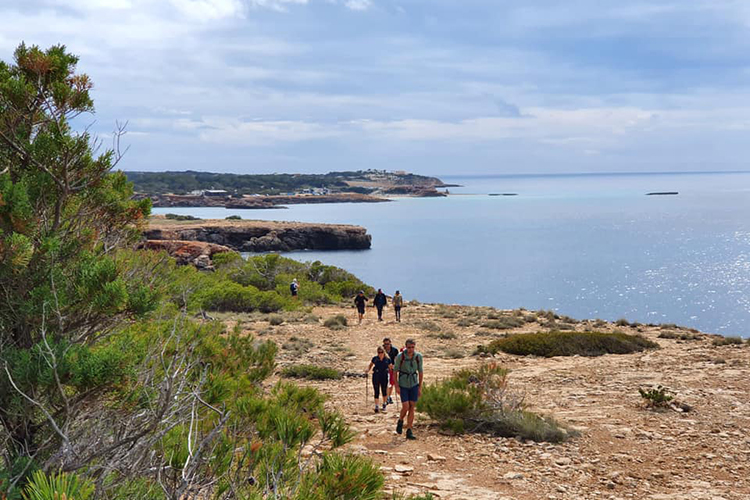 Discover Ibiza with Ibiza Walking. © Ibiza Walking via Facebook
3. A visit to Can Muson
Spending a few hours on this organic farm gives your body a good boost of positive vibes. You can buy organic fruit and vegetables, walk around the estate and learn how to make goat's cheese, bread and traditional sweet treats or even the hierbas ibicencas liquor.

4. Forest bathing
Shinrin-Yoku, or Forest Bathing, is an old Japanese practice that literally means "soaking in the forest atmosphere". Switch off your mobile phone, wear comfortable shoes and go into the pine-tree woods of the Es Amunts nature reserve by the track that joins Sant Llorenç and Sant Miquel.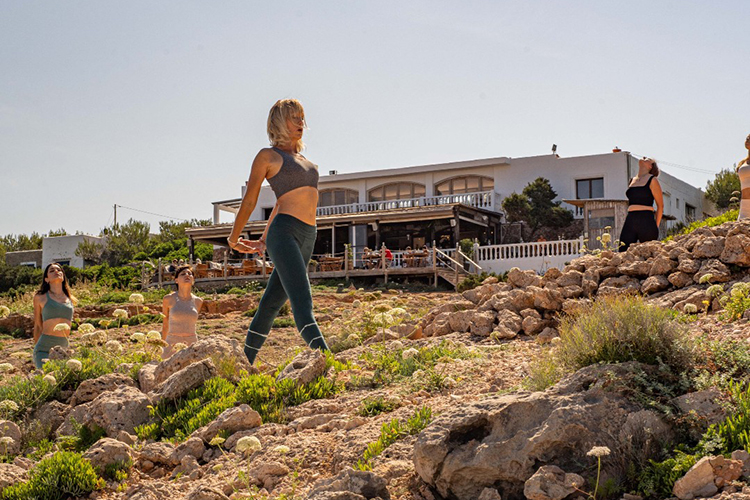 Yoga sessions at Hostal La Torre. © Hostal La Torre
pamper your body
5. Revival Spa
A Feng Shui swimming pool, a Roman bath and a cold pool are some of the spaces available in the thermal area of this sophisticated spa that is more than 1,500m2 large. You can choose this relaxing circuit or treat yourself to one of the exclusive Clarins treatments. It's in Santa Eulària des Riu, in the Aguas de Ibiza hotel.

6. Prestige Spa
This is another place to give your body an extra dose of well-being. Inside the Insotel Fenicia Prestige hotel, in Santa Eulària des Riu, the spa facilities include an outdoor hydro-massage pool, an indoor dynamic pool, waterbeds, sauna, herbal steam room, salt steam room, laconium, sensations showers, ice fountain and reflexology baths.

7. Es Bol Nou
This beautiful beach on the south coast of Ibiza hides a free and healthy spa treatment at the far end: mud. Simply mix seawater with clay and smear it all over your body.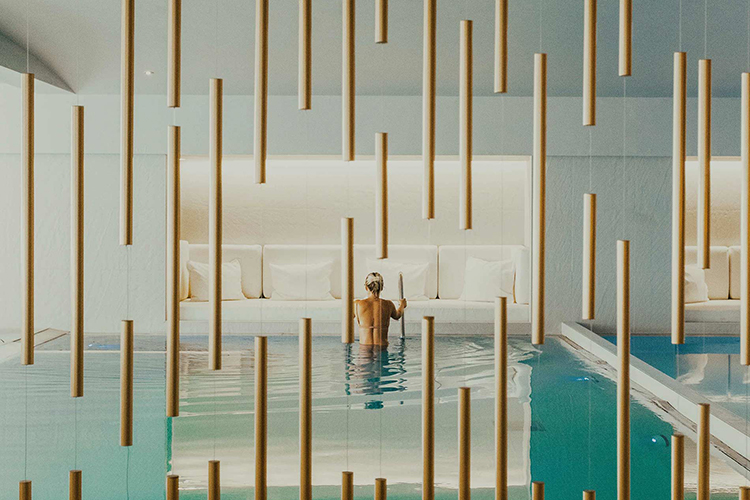 Pamper yourself at Spa Revival. © Aguas de Ibiza
8. Med Spa
In Marina Botafoch, besides the beauty treatments offered at this modern well-being centre, you will find the latest trends in last-generation facemasks made with nano-fibres, ultraconcentrated serum treatments and more.
9. Playa d'en Bossa
Walking on sand is excellent for the body: it works your leg muscles, activates your blood circulation, eases stress with its relaxing effect and exfoliates the soles of your feet. Don't miss this treatment offered by nature and take off your shoes at Playa d'en Bossa. Being three kilometres long, this beach is the longest on the island.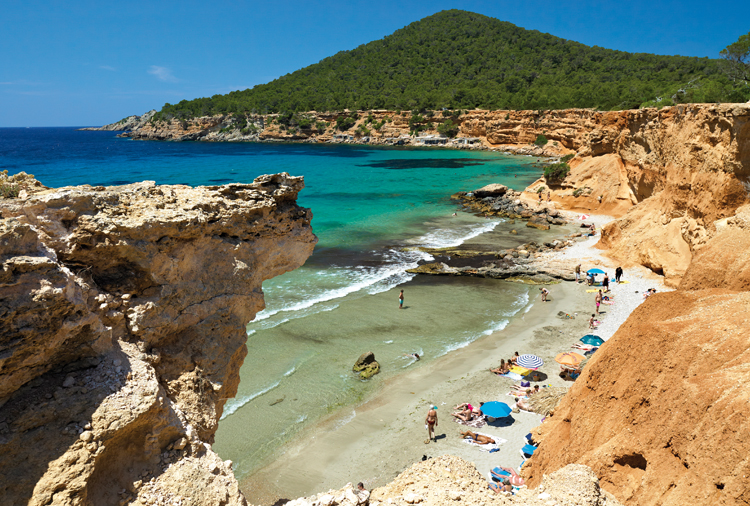 Acércate a Es Bol Nou y haz un baño de arcilla. © Consell d'Eivissa
Propuestas para alimentar y cuidar el cuerpo
10. Veritas
In the heart of Eivissa, only a few metres away from Vara de Rey avenue, this organic supermarket has a broad range of products with the green seal. Here you can buy a snack for a day on the beach or body products and sunscreen. Avda. de España, 9 veritas.es

11. Simbiosis
Now and then, it's good to put animal protein aside and give way to the plant kingdom. This is one of the most popular vegetarian restaurants on the island where you will enjoy delicious and original dishes, many of them gluten-free, vegan or raw vegan. It's on Calle Sant Jaume, a few steps from the Parque square.

12. Wild Beets
Santa Gertrudis is home to the colourful and tasty food served at this restaurant with vegetarian, vegan, raw vegan and gluten-free dishes. You'll be surprised by its original proposals! It also has a long list of juices and many non-diary milks to pour into your coffee.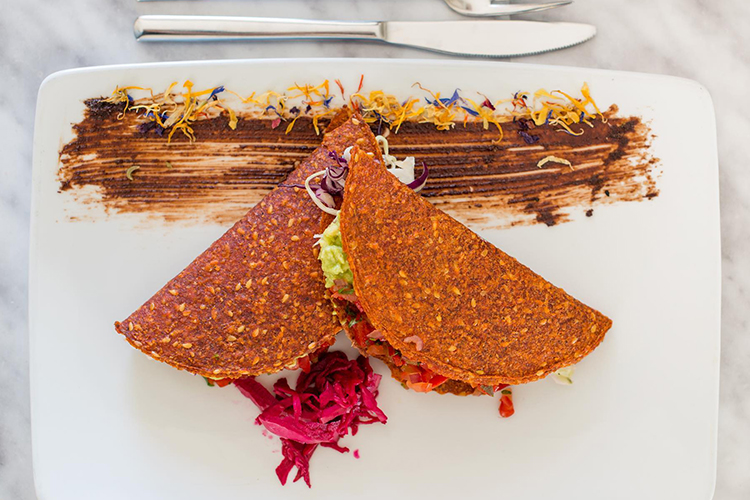 Delicious tacos at Wild Beets. © Wild Beets via Facebook
Main picture: © Natalie via Pexels