Why not leave the day's plans to chance?
Can you remember that time when you had no plans for the evening but it became one of the most amusing and memorable evenings? We often forget to leave room for improvisation and chance and that's why we want to let luck take the reins of your day. Come play with us, toss a coin and let fate lead the path for today. Explore. Swim. Eat. Kiss. Dance. Heads or tails.
How shall I start the day in Ibiza?

Toss a coin straight away: your improvised day begins the moment you wake up. Where will fate take you?
9 a.m.: Where shall I have breakfast?
HEADS: Hostal La Torre
Get ready for breakfast at our boutique hotel in Cap Negret, on the outskirts of San Antonio. With a view of the sea and Sa Conillera islet, this is the best start to the day! We suggest you order the poached eggs with avocado and smoked salmon and the homemade pancakes with fresh blueberries, maple syrup and mascarpone cheese.
TAILS: Bondi Ibiza
Head over to Ses Fonts avenue in San Antonio and enjoy a fabulous breakfast by the harbour. Toast, free-range eggs, assorted fruit... Whatever you fancy for breakfast, you'll find it here.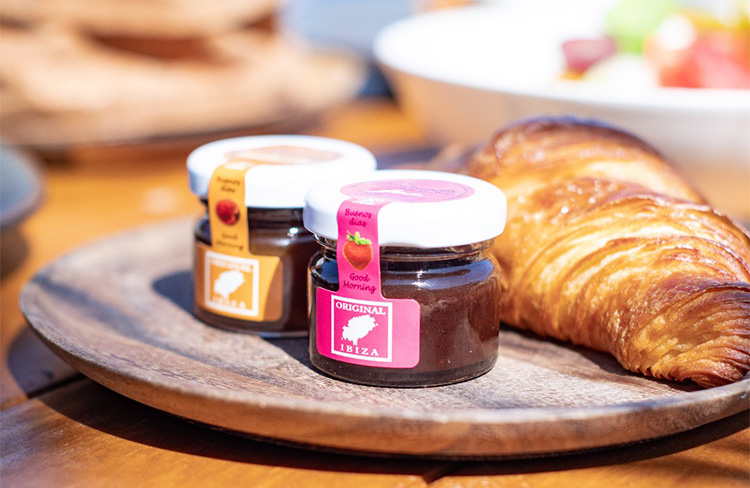 Local mermelades for your breakfast in Hostal La Torre © Grupo Mambo
10:30 a.m. Which island shall I visit?
HEADS: Ibiza
Luck is telling you to stay and keep the game going on the island. There's no way of knowing where chance will lead you, so we suggest you pack your basket or bag with a few summer basics: hat, snorkelling goggles, a book, water shoes, towel...
TAILS: Formentera
Today you'll be spending the day on the smallest of the Pitiusa islands. The adventure continues following our suggestions to explore Formentera in a day and if you can't decide which beach to visit, flip the coin!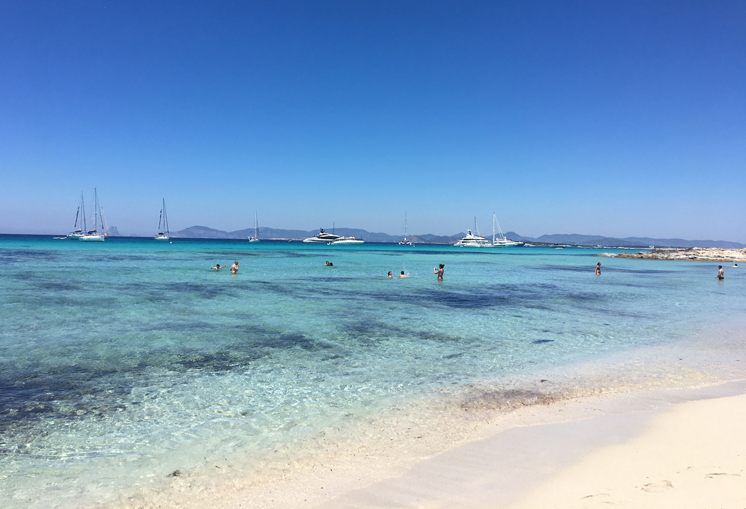 Ses Illetes will be your beach for today? © NC / Hostal La Torre
11 a.m. Next stop?
HEADS: Visit the Contemporary Art Museum

If you thought there would be no room for art in your holidays, you were wrong. Luck is taking you to discover this interesting contemporary art collection with Spanish and international works in Dalt Vila. Don't miss the exhibition of Japanese engravings.
TAILS: Get a tattoo
I dare you. Even if it's a tiny one. And if it's been ages since you first inked your skin, you'll be glad to know this stroke of luck is taking you to Inkadelic and Neil Ahern's door, the well-known tattoo artist. His studio is by the old market (Mercado Viejo) in Ibiza.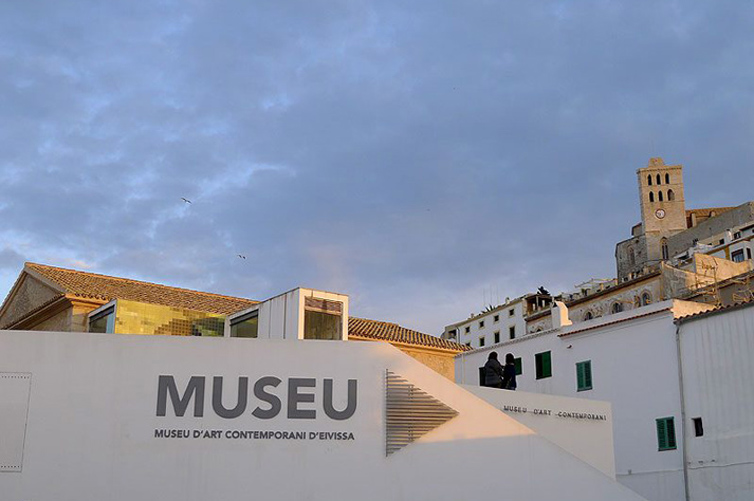 Wll you visit MACE today?. © Turisme de Eivissa
Afternoon plans?

Forget about the urge to have everything under control. After all, you're on holiday. Flip the coin again. And if other suggestions come up, no worries, the game will continue as long as the coin chooses between any two options.
1 p.m. Which beach shall I go to?
HEADS: A dip in the most remote beach in Ibiza.
Enjoy a pleasant beach date on the north-eastern coast of the island, one of the most unspoilt areas in Ibiza. Cala Sant Vicent is a peaceful cove with a view of Tagomago and a great choice of restaurants: On The Beach, The Boat House and Can Gat.
TAILS: Naked picnic
Head over to the middle strip of Es Cavallet, one of Ibiza's nudist beaches. Take your clothes off and enjoy a fabulous relaxing day. But before that, stop at Can Pep Tixedó supermarket, on the road to Ses Salines, and buy empanada (pies), cocas (flatbread topped with vegetables or other ingredients), cold meats, fruit and drinks for your beach picnic.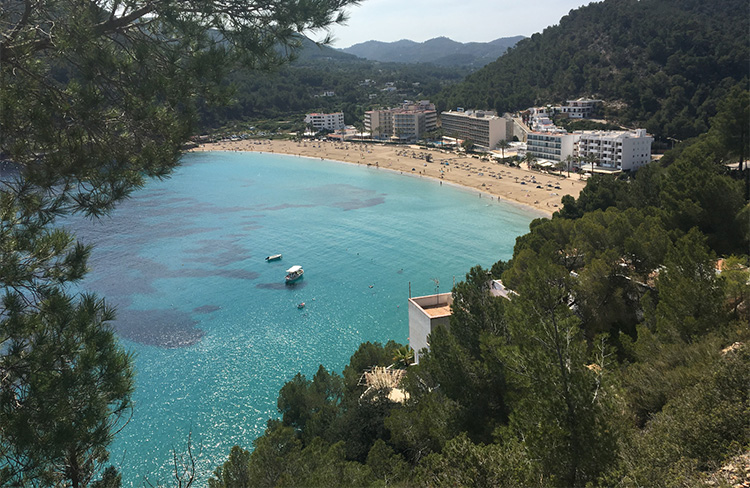 Cala Sant Vicent, one of the most remote beaches in Ibiza. © NC / Hostal La Torre
5 p.m. What shall I do after an afternoon nap?
HEADS: Afternoon shopping in Ibiza
There are plenty of opportunities to buy something special or your new favourite summer garment in the many shops and boutiques in La Marina and Marina Botafoc. And you can take a break from all that shopping with an ice-cream next to the citadel at Vivi's Creamery, a late afternoon aperitif at Petit Vermut or coffee with a view at Capuccino Marina.
TAILS: Kayaking at Es Figueral
On Es Figueral beach you can hire a kayak or paddle-surf board from Kayak Ibiza and admire one of the most stunning coastlines in the island. And if you've never gone paddle surfing, they'll teach you how to do it without losing your balance.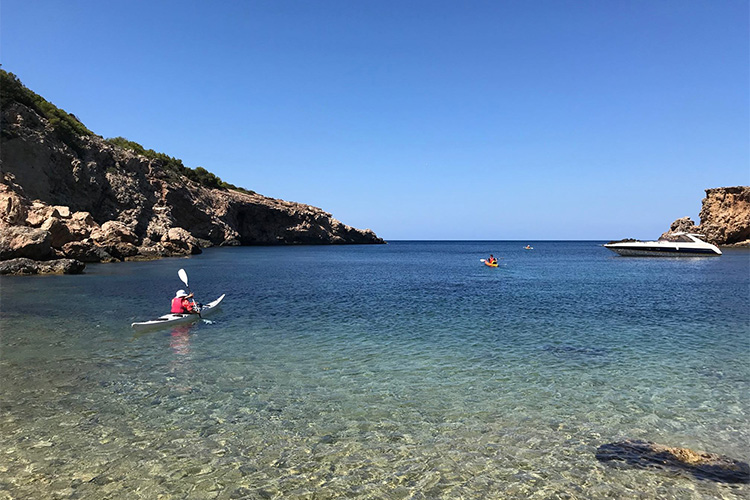 Kayaking around Es Figueral?. © Kayak-ibiza.com
8 p.m. Where shall I see the sunset from?
HEADS: Sunset from Cala Benirrás
If the coin has taken you to Cala San Vicente or Es Figueral, it's quite handy to get to this cove on the northern coast of Ibiza to see one of the most popular sunsets in Ibiza. You'll love the charming fishing atmosphere, its crystal-clear waters and the islet of Cap Bernat, that brings extra beauty to this sunset.
TAILS: Sunset from Hostal La Torre
If you're staying with us, it's time to head back to the hotel for a shower and get ready for one of the most awe-inspiring sunsets in Ibiza. If you're not a guest and chance has brought you to our terrace, luck is on your side: Hostal La Torre's terrace offers delicious cocktails, the best Balearic Sound music and an appealing cosmopolitan atmosphere.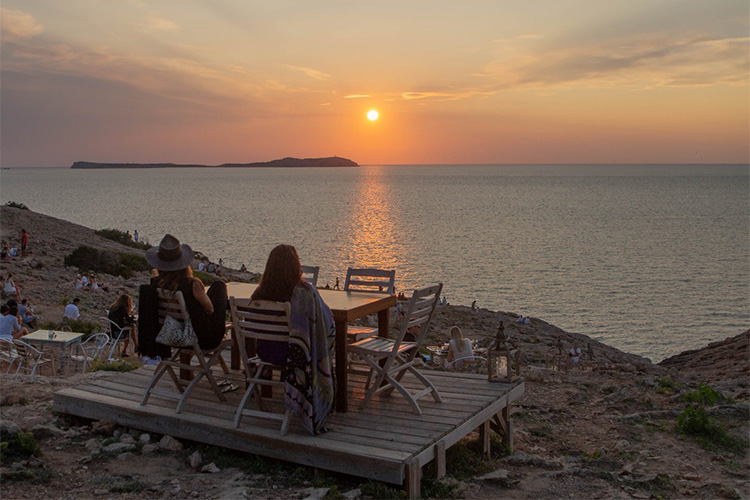 Follow your destiny and enjoy the sunset at Hostal La Torre. © Grupo Mambo
Evening plans

Where will fate take you? Don't tuck your coin away yet, improvised evenings are always the most fun. And if you're feeling sleepy, you can always toss the coin again the next day. It might even become a habit...
9.30 p.m. Where shall I have dinner?
HEADS: Dinner and drinks at Villa Mercedes
Unplanned days are usually a success. After all, luck has taken you to Villa Mercedes. No matter who you're with, your partner, friends or family, you'll fall in love with Villa Mercedes and its suggestive Med food, wonderful atmosphere and great cocktail bar for after-dinner drinks.
TAILS: Let's go see Boris
Chance has brought you to Ibiza Food Studio, a cosy food studio in Sa Penya, in Ibiza, where you'll feel as if you're visiting a Danish friend, but a chef friend no less. Don't be in a hurry to leave, stay to have a drink with the other guests...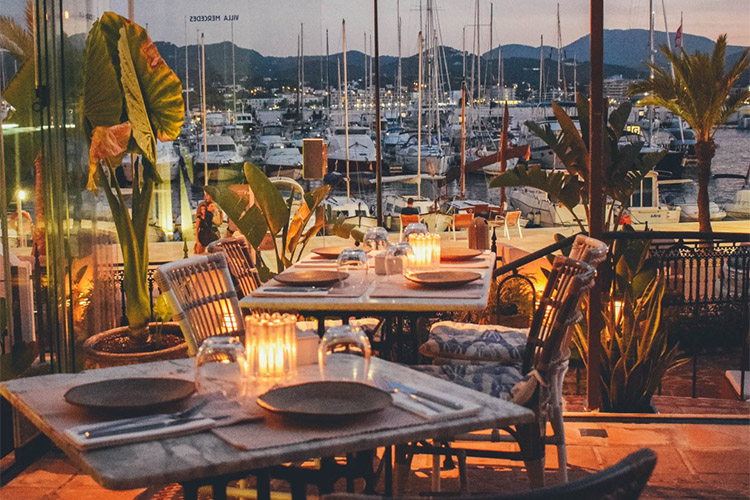 What if you also toss the coin to choose what to have for dinner? © Villa Merceces
Midnight Where shall I kick off the night?
HEADS: Drinjs with a view

Tirapallá has become a classic of nights in Dalt Vila. Up a flight of stairs that will put your balance to the test –especially if you're in heels–, this place stands out for its fantastic views of Dalt Villa from its rooftop. Besides these splendid views, it boasts a great local vibe, good music and fabulous cocktails.
TAILS: Café Mambo
If you don't yet want to hide from the stars and the last toss of the coin took you to Villa Mercedes, the next stop is right next to you. A five minute walk (if that) on the San Antonio promenade will bring you to the iconic Café Mambo, where you can have a drink by the sea with the best electronic music.
For the rest of the night, we suggest you forget about the coin and follow your instincts. Because we know that if your favourite DJ is in the booth tonight, you won't be changing it for a coin's whim. But keep your eyes peeled, and if the night comes up with a new choice, flip the coin!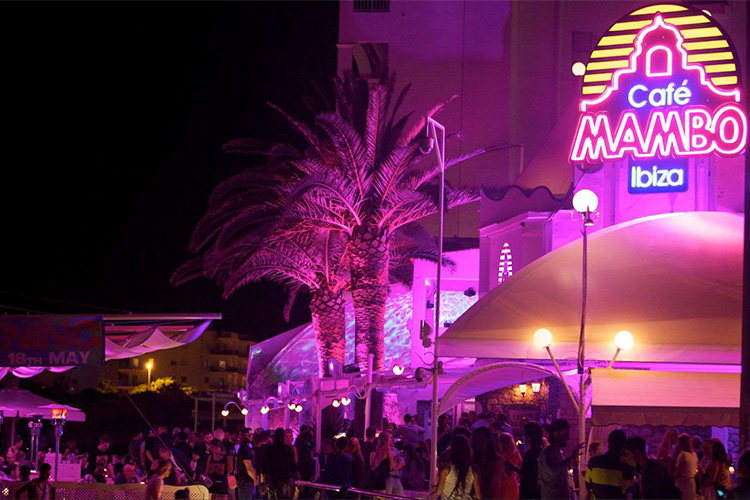 Main picture: MerryAmber / Pixabay