Hostal La Torre's playlist for your summer sunsets (wherever you are)
Sunset at Hostal La Torre is a unique experience, not only because of the fabulous view of the sea and Sa Conillera island, but also because of the amazing creativity played by the DJs who delight us with their musical conversation day after day. Today we'd like to share with you the exciting playlist that Be.Lanuit has made specially to fill your sunset with magic, wherever you are.
Be.Lanuit's Top 10 for this summer

You may already be in Ibiza or still organising your next gathering at Hostal La Torre to watch the sunset, or you may be at home, maybe working, missing your last holiday in Ibiza, or maybe you're counting the days to your coming trip –lucky you!– to the island. Any of these situations are our cue to invite you to press play on the following Spotify playlist compiled by Be.Lanuit, Hostal La Torre's resident DJ. For you to listen and enjoy it wherever you are, whenever you want.
Ten thrilling themes of pure Balearic Sound that will lift your spirits and make you feel closer to the summer breeze, the wonderful indulgence of living in the present, Ibiza's hedonism, the pleasure of sharing a secret, and the priceless moments of quiet facing the sea, with no need for words to say it all: about the joy of being there and how good it feels. Press play and enjoy the sunset following the magnetic path drawn by Be.Lanuit with the this Top 10 La Torre playlist on Spotify:
Summer Sun, de Common Saints
Nebulosa, de Be.Lanuit e INANA
Algunas veces, Chris Coco
Sueños (Padilla's Tribute), de DJ Pippi y Willie Graff
Greece 2000, de Anders Ponsaing, Kenneth Bager y Claus Højensgård
Amber – Original Mix, de James Bright
Nana a Leon – Original Mix, de Be.Lanuit y Marcos de la Fuente
Havana Club (The Latin Mix), de Ottmar Liebert + Luna Negra y Steve Bezet
Namibian Scents, de Be.Lanuit y Bjorkey
Luz – Original Mix, de George Solar
The best cocktails to accompany your playlist

From our new summer cocktail list, we've chosen three of our signature cocktails for you to pair them with this Be.Lanuit playlist.
La Torre sunset: made with Grey Goose vodka, strawberry puree, fresh lemon juice and cava.
Mile High Daiquiri: a refreshing cocktail that harmoniously mixes Bacardi Carta Blanca, ginger syrup, honey syrup and fresh lime juice.
Javier's Margarita: a premium twist on the classic margarita made with Patron Silver tequila, orange syrup, lime juice and rosemary.
And if you're not a good mixer but you're in Ibiza or will be soon, come over to Hostal La Torre and let us mix a cocktail for you. Simply relax and enjoy the good company, the sunset and the best Balearic Sound sessions played by Be.Lanuit and our other resident DJs.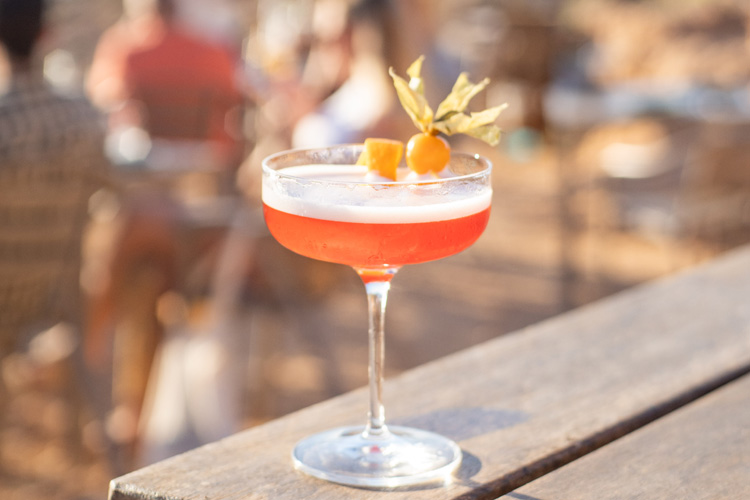 Hostal La Torre and Balearic Sound

DJ Alfredo and the late José Padilla are two of the key figures of the Balearic Sound scene. This sensual and imaginative music put down its roots in the 80s and is known for its eclecticism and creativity. Hostal La Torre has linked its essence and character to this music that helps people bond with the present and the environment and is the perfect accompaniment to the stunning views from our boutique hotel terrace.
Hostal La Torre's turntables have been scratched by iconic resident DJs, like DJ Alfredo, José Padilla, DJ Pippi, DJ Harvey and Pete Gooding, and this season we've welcomed a few more resident DJs: Be.Lanuit, Fabiano Pax, August Artier, Willie Graff, Buda, Andy Baxter, Bruz, Phat Phil Cooper and George Solar.