Which flights will bring you to Ibiza this autumn and winter?
Check out the direct flights to Ibiza for this autumn and winter 2022-23 and become an world-class expert on Ibiza. You only get to know the island properly if you spend some time during the crazy summer days and during the quiet days in the colder months, when you're no longer another face in the crowd and peaceful pleasures come back.
In the autumn and winter, the island reveals its other many charms that only the most privileged get to enjoy: those who know that an autumn or winter getaway to the most magnetic island in the Med will truly recharge your batteries. Eating under the marvellous winter sun, strolling through pine forests, a yoga session facing the sea, eating tapas after a morning of remote work, exploring the countryside on a bike... Whether you're coming over for a long weekend or for a hybrid week mixing remote work and rest, you'll only know it's winter in Ibiza if you look at the calendar.
Direct flights to Ibiza 2022-23: from October to March

When the summer season comes to an end, Ibiza keeps up its flights to the main airports in Spain and abroad. Until the end of October, the island still has direct flights to the airports of Bilbao, Alicante, Lisbon, Santiago, Milan, Rome, Zaragoza, Rotterdam, Alicante and Brussels, among other destinations: check your favourite flight finder for active flights this month between Ibiza and your nearest airport. For the rest of the 2022-2023 season, these are the flights planned to bring you over to Ibiza in the winter.
Which airlines offer flights from Europe to Ibiza in the winter?

The flight routes scheduled for the next few months connect the island's airport to 9 European cities. Check your calendar, you're coming to Ibiza!
London: British Airways
Amsterdam: Transavia and Vueling.
Eindhoven: Transavia.
Paris: Vueling and Transavia (6th November) and EasyJet (until 6th November and from 10th February).
Dusseldorf: Eurowings.
Milan: EasyJet, until 29th October and from 11th February.
Porto: EasyJet, until 29th October.
Brussels: Transavia, until 4th November.
Geneve: EasyJet, until 4th November.
Come to Ibiza in winter and come back in summer (or almost). © Angel Camarena / Hostal La Torre
Which airlines fly to Ibiza from mainland Spain and the Balearic Islands in the winter?

During the entire off-peak season, Ibiza's airport remains connected to the main airports in Spain. If you're not too far from one of them, hop over to the White Island!
Barcelona: Iberia, Vueling and Ryanair.
Madrid: Air Europa, Iberia, Vueling and Ryanair.
Seville: Ryanair.
Palma de Mallorca: Air Europa, Swiftair and Iberia.
Valencia: Iberia and Ryanair.
Málaga: Ryanair.
Bilbao: Vueling and Iberia.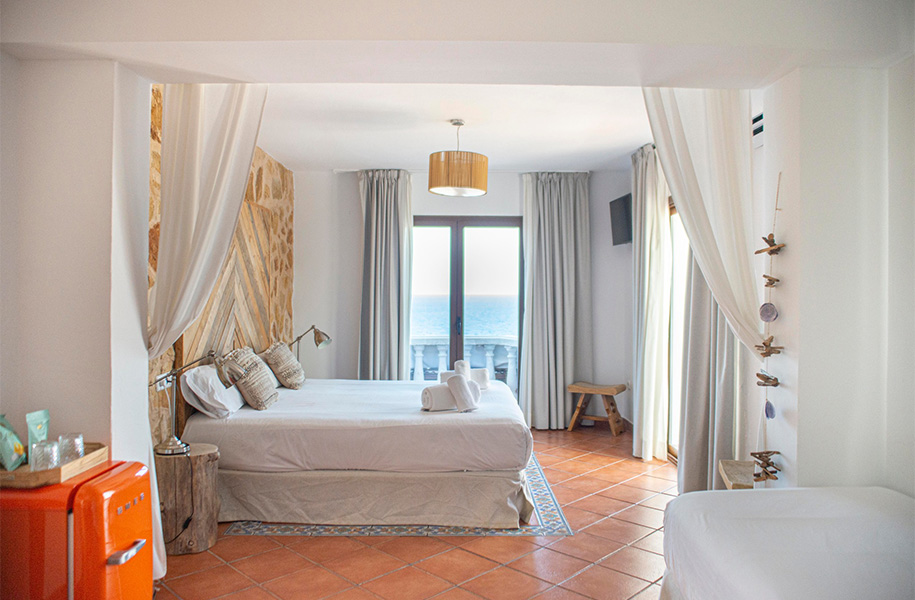 Book your room today!. © Luanda Lopes / Hostal La Torre
Book your hotel in Ibiza this winter and autumn

Stay with us during your break in Ibiza during the off-peak season and make the most of our special Room & Rental Car offer. You'll be able to drive a rental car for free every day you stay at Hostal La Torre. Enjoy a few fabulous days of rest with a stunning view of the sea and the amazing Ibizan sunsets. And this will also be stimulating if you have to work remotely during your time in Ibiza.
Hostal La Torre: open all year round

Vengas el mes que vengas a Ibiza, siempre nos encontrarás a punto para darte la bienvenida, así como organizando planes para sacar el máximo provecho al otoño y el invierno en la isla: clases de yoga, menús gastronómicos, cenas y comidas especiales para las fiestas de Navidad, talleres… Ven y desconecta del bullicio de la ciudad y del rigor del invierno. Aquí encontrarás la mejor de las vistas para que las disfrutes al desayunar, a media mañana, al mediodía, al atardecer e incluso a la noche. Y siempre a punto para servirte un delicioso café Meke, un copa de buen vino o un sugerente cóctel.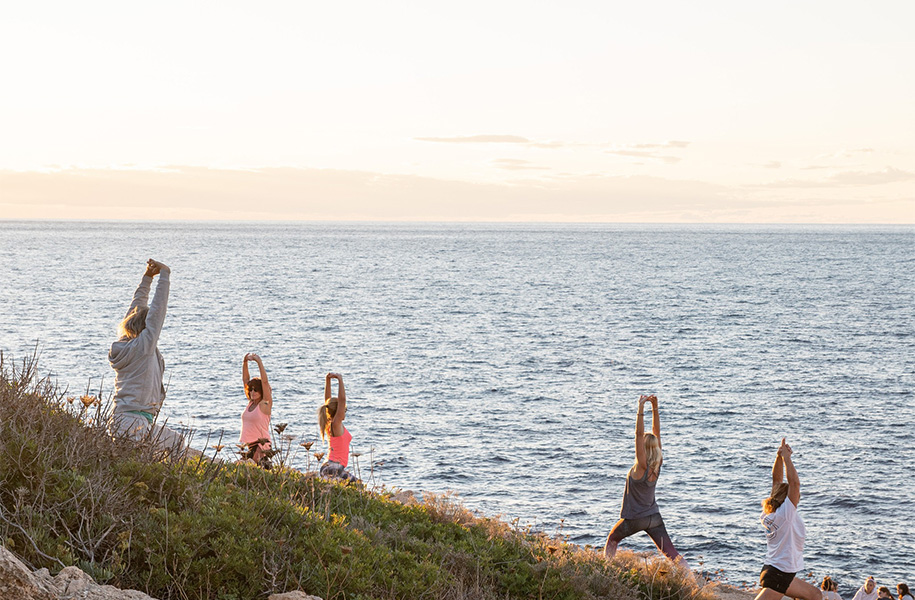 There is much to enjoy in Ibiza in low season. © Angel Camarena / Hostal La Torre
Main picture: @ Nuria Cortés