Food tour in Sant Antoni
You may already know, but the food in Ibiza is amazing. And if we aim the spotlight at San Antonio, the picture you get is deliciously appealing. In the centre of the village or in the surrounding area you'll find loads of options to enjoy fabulous food experiences. Follow our food tour and find out where to get the most lush bites.
For lunchtime or in the evening, we've chosen 10 mouth-watering restaurants for all tastes, from traditional Ibizan food to modern, creative Mediterranean food. This tour is perfect if you're staying 5 or more days in Ibiza but if you live here or have a second home on the island, you can follow it in your own time over the summer. Or even in the winter, because most of these restaurants open practically all year round.
Where to eat in San Antonio: the foodies' tour

Here's our choice of 10 amazing restaurants to follow an exquisite gourmet tour in San Antonio. There's no order, it's not a ranking, so you choose where to start your food tour. Bon apetit!
Villa Mercedes
On San Antonio promenade, this place is ideal for a romantic evening, but it's also great to go with friends. You'll love the setting, the atmosphere and the garden, but also its delicate Mediterranean food and refreshing cocktails. A top-notch experience! Address: Paseo de la Mar s/n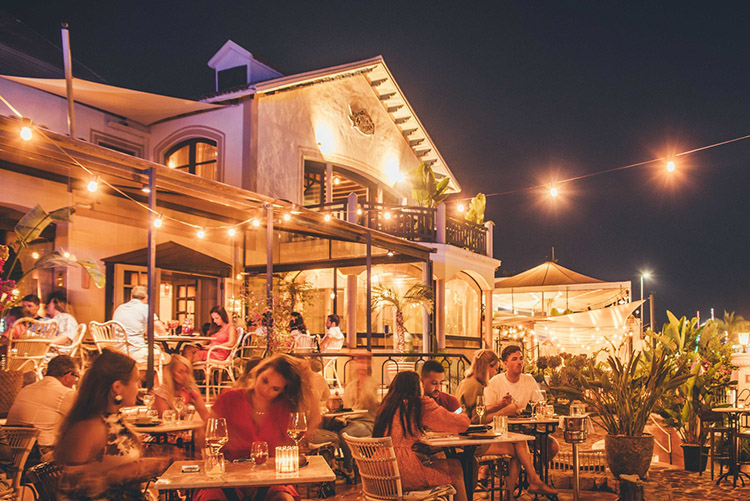 Villa Mercedes
Es Verro
Facing the side of San Antonio church, its tables are scattered around its quaint interior and pleasant terrace. This stop only opens in the evenings, so leave Es Verro for when you feel like having wonderful tapas for supper and, in their own words, "real Thai food". Address: c/ Ample, 21.
Es Gerret
This restaurant is barely a few metres away from the sunset. Here you'll enjoy a fabulous food experience through the signature dishes and mini-dishes prepared by its chef and owner José González. Most dishes are made with Ibiza's local produce. Dirección: c/ Vara de Rey, 23
Es Ventall
This gourmet stop is available practically all year round. Don't miss it! With over 35 year's history, Es Vental has evolved from traditional Ibizan food to new contemporary recipes from the island, keeping its focus on local produce. The chef, José Miguel Bonet, has been rewarded for his work with 1 Sun by the Repsol Guide. Address: c/ Cervantes, 22.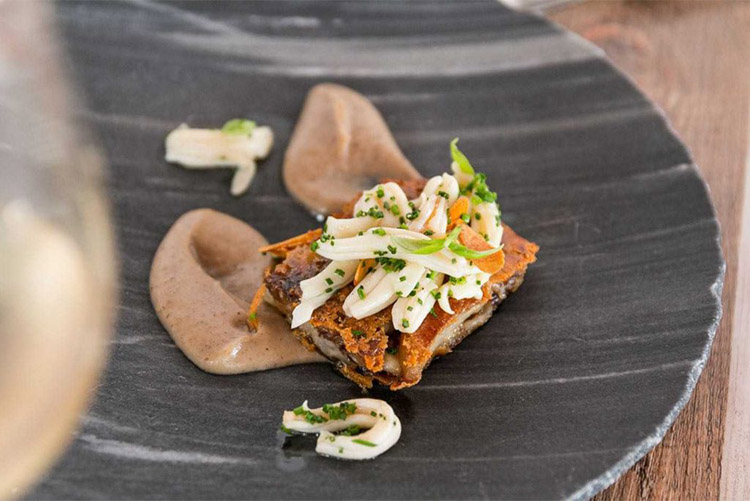 Es Ventall - Foto via visit.santantoni.net
Yenuina – Laboratorio de Pasta
This food tour in San Antonio can't go without a pasta stop. But not just any old pasta! Italians living in Ibiza or visiting it become fervent regulars of this restaurant once they discover it. Its fresh pasta (made without egg and only stoneground flour) can be eaten at their tables or at home too. Where?: C/ Soledat, 62
Hostal La Torre
At lunchtime or in the evening, our restaurant is a must-stop on our food tour around San Antonio any time of the year. Open 365 days a year, our yummy Med food is prepared with love and accompanied by fantastic views of the sea and Sa Conillera islet, Cape Nunó and the sunset. And adding the best Balearic Sound music, you get the perfect food experience. A tip? Start with a cocktail and leave room for dessert. Where?: Ctra. Cap Negret, 25
Es Rebost de Can Prats
This gourmet tour around San Antonio can't go without the island's typical food, especially if it's at one of the best-known traditional restaurants in Ibiza. Its menu includes the most popular recipes as well as other local dishes that are less known to visitors. Where? c/ Cervantes, 4.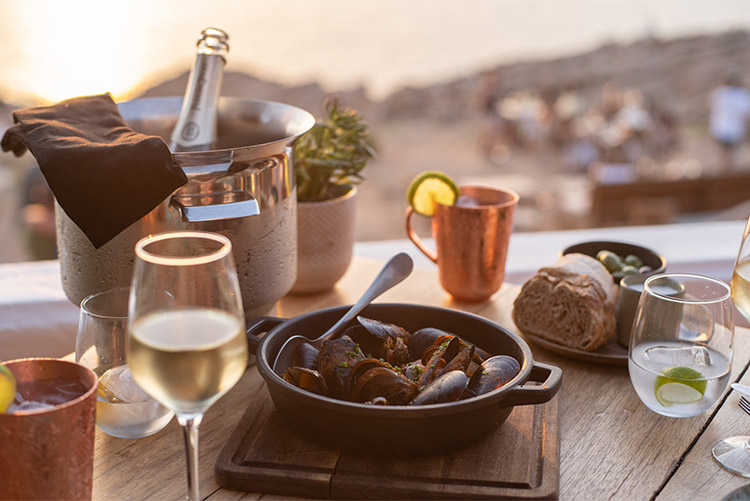 Hostal La Torre. © Angel Camarena
Cala Gracioneta
Summer brings irresistible pleasures, like eating on the seafront. Especially if it's in the charming cove of Cala Gracioneta, and you're relishing scrumptious Med food made with love. At this beach bar, you'll love the food experience at lunchtime or in the evening, as its magical vibe lasts all day long. Where? Cala Gracioneta.
Es Tragón
On the outskirts of San Antonio, this was the first restaurant in Ibiza to earn a Michelin star. It's also been awarded two Suns by the Repsol Guide. Here you'll be surprised by the creative dishes described as "explosive and mischievous" by the chef, Álvaro Sanz, which make up a fabulous tasting menu inspired by local and national recipes. Where? Ctra. Cap Negret, s/n
S Marí
The Hostal Marí restaurant is another essential stop on our food tour that's available practically all year round, as it only closes for a month. Their dishes have been tweaked and updated to today's trends. They serve Med food with a few international touches at lunchtime and dinnertime. Where? c/ Progrés, 42.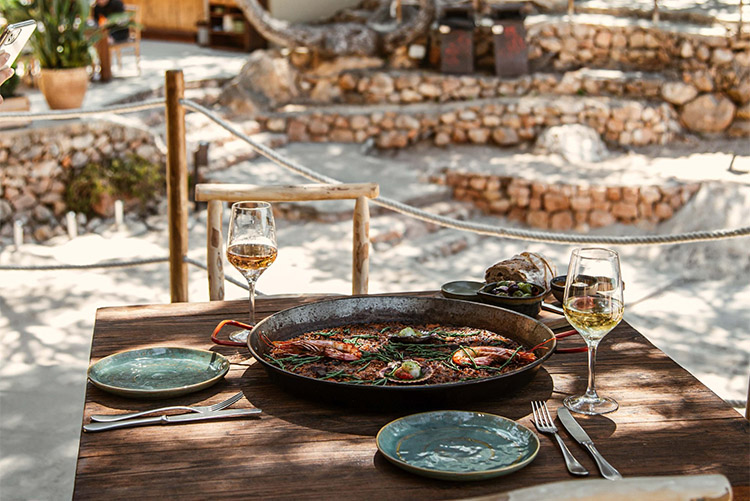 Cala Gracioneta - Luana Failla
More tours to make the most of Ibiza
These food stops in San Antonio can be combined with other tours of the island, like the ones we've suggested before:
If you'd like more ideas for your stay on the island, take a look at our inspiring blog posts or contact our front desk for more suggestions.
Main picture: Hostal La Torre - © Angel Camarena / Grupo Mambo